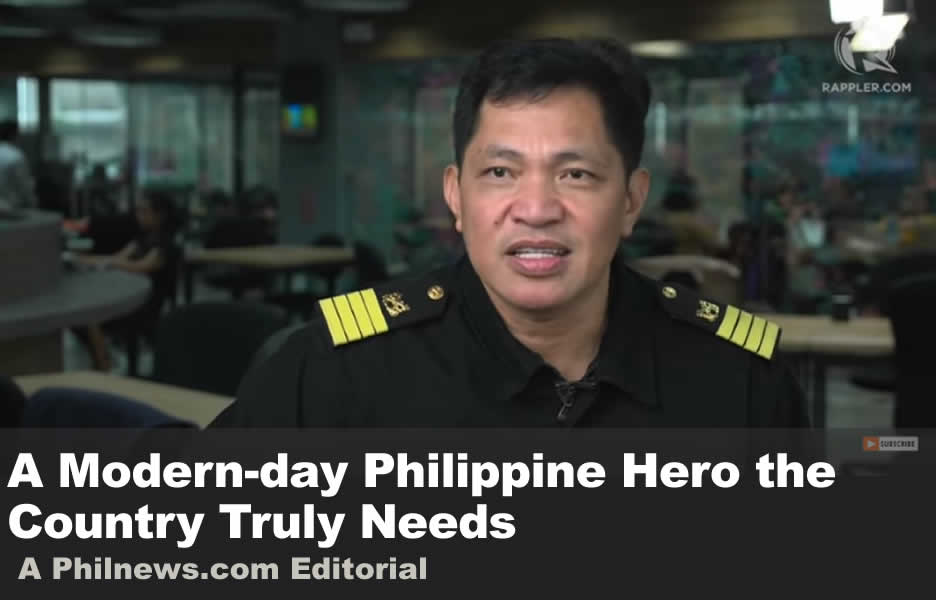 Filipino Captain, and Reserve Philippine Navy Lieutenant Commander, Manolo Ebora Photo: Rappler.com

n November 1, Rappler.com published an exclusive article that recounts the bravery and steadfastness of Filipino Captain Manolo Ebora, who, with his all-Filipino crew of 21, defied Chinese naval vessels' demands to steer clear of Scarborough Shoal.
Captain Noli, as his crew calls Ebora, also happens to be a Reserve Officer of the Philippine Navy, with the rank of Lieutenant Commander. With Capt. Noli on the bridge of the Green Aura, a Greek-flagged oil tanker, the vessel passed within six nautical miles of Scarborough Shoal.
The Green Aura immediately began receiving radio messages from Chinese warships in the area, ordering it to change course and veer away from the shoal. Capt. Noli, however, stood his ground and demanded to know if he was in Chinese waters. At one point, he even told the Chinese that he believed he was in Philippine waters. Green Aura kept its course despite Chinese demands until it had passed Scarborough Shoal.
The incident, which occurred on September 30, 2019, at around 7:30 PM, was an act that Filipinos should be proud of. Ever since then-President Noynoy Aquino was hoodwinked by the Chinese in 2012, after they illegally occupied the shoal, up to President Duterte's bending over backward to appease Chinese President Xi Jin Ping, there has been no act of defiance against China's illegal actions.
For whatever it is worth, what Capt. Noli did that evening stands in stark contrast to the cowering, submissive stance of Philippine leaders from the president on down. Our hats off to you, Capt. Noli. We wish we had more Filipinos like you to lead our country. Published 11/2/2019
Click here to go to Rappler video