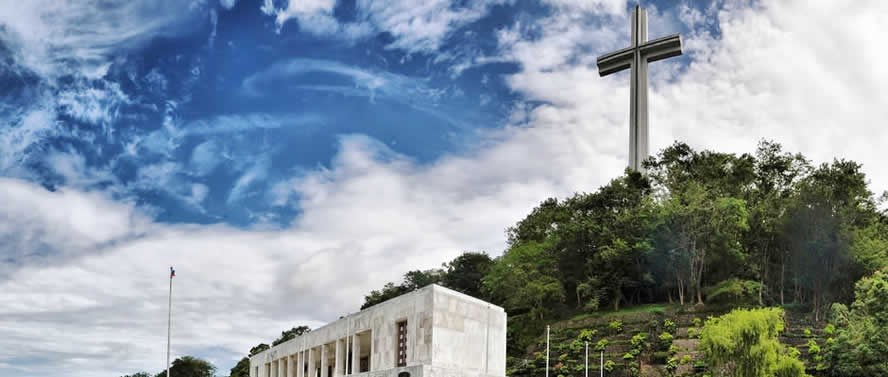 Mount Samat National Shrine, Bataan, Philippines
In commemoration of the 100th anniversary of Armistice Day as well as Veterans Day, we are publishing a revision of an editorial we wrote in 2012 titled: Remembering the Sacrifices of Our Forefathers During World War II.

t seems that Filipinos, in general, refuse to be bothered with their past. We live for the present and look to the future, but seldom do we glance back at the past. Three hundred sixty-seven years of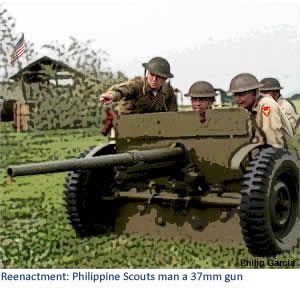 Spanish colonial policy made sure our pagan Malay culture, customs and traditions were excised from our past.
Deeply engrained in our collective psyche, we continue to dismiss our past long after our Spanish colonial masters have left our shores. Examples of this abound just about everywhere you look: For instance, we never bothered to preserve or archive the early Filipino movies we produced, so most of them have been lost or destroyed. The same is true for early TV shows. Old houses and buildings are left to decay and then are torn down. So much so that next to nothing of "old Manila" remains today. Even relatively recent historical events like the EDSA People Power revolution is understood by the youth only in the most perfunctory of ways.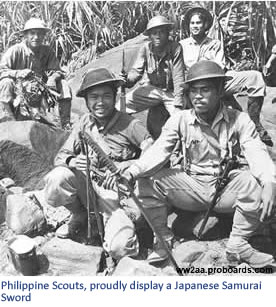 Unlike other cultures that cherish their history and preserve it as best they can, we Filipinos seem more inclined to forget our past and just move on. But it is a shared past that unites a people. Only when Filipinos can look back and truly appreciate the sacrifices and struggles that their forefathers went through for their sake, can there be a truly united Philippines. Lacking that, we are but a conglomeration of individuals with little common.
This veterans day, let us remember the Philippine Scouts. They were one of the best trained, best equipped units in the U.S. Armed Forces at the time—Their training and equipment were topnotch. For example, the then newly-issued Garand M1 rifle was first used in battle in the Philippines, in the hands of Scouts.
Cut off from American supply lines and forced to fight on their own, Filipino and American troops fought hard to hold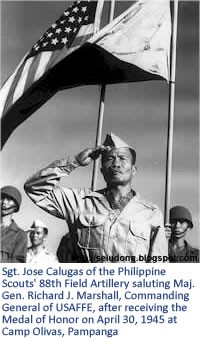 back the Japanese invasion. Their valiant efforts bogged down the Japanese war machine for months. This bought precious time for Allied forces in the Pacific to secure their positions and begin laying the groundwork for a counteroffensive against Japan.
For his act of valor that went "above and beyond the call of duty" during the battle of Layac Junction on January 6, 1942, Sgt. Jose Calugas, a Philippine Scout was awarded the Congressional Medal of Honor, the highest honor given to a military person by the United States of America.
Truth be told, the Japanese imperial army would have conquered a lot more territory had it not been for the gallant efforts of our forefathers who answered the call of duty and put their lives on the line for our country. We salute the Philippine and American Veterans of World War II: the Philippine Scouts, the USAFFE troops, the guerillas, and the countless civilians who risked their lives to fight off the invaders. We are forever in their debt. Their sacrifices shall never be forgotten. Published 11/13/2018