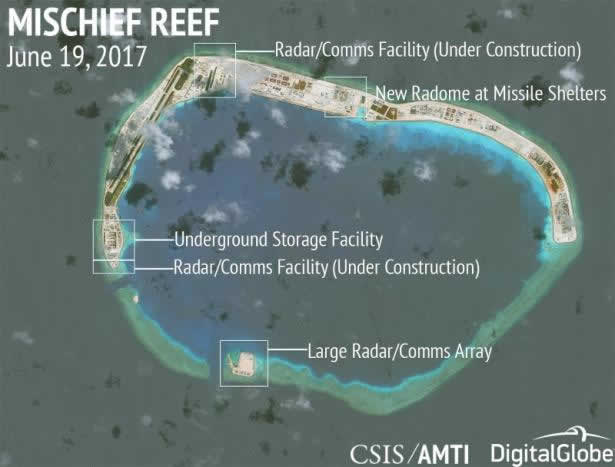 Construction is shown on Panganiban Reef (Mischief Reef) in this June 19, 2017 satellite image released by CSIS Asia Maritime Transparency Initiative at the Center for Strategic and International Studies to Reuters. (CSIS/AMTI DigitalGlobe/Handout/Reuters)

ccording to the Asia Maritime Transparency Initiative (AMTI), a Washington-based think tank, and a part of the Center for Strategic and International Studies (CSIS), China has upgraded its facilities in Panganiban Reef (Mischief Reef), Fiery Cross Reef, and Subi Reef. According to the June 19, 2017 AMTI report, China is continually "expanding its already substantial communications and radar capabilities on the artificial islands. A very large antennae array is being installed on a small outpost at the southern side of Mischief Reef, presumably boosting China's ability to monitor activity around the feature. That ability should be of particular concern to Manila, given Mischief's proximity to Palawan, Reed Bank, and Second Thomas Shoal."
China appears at present to be concentrating on three artificial islands: Fiery Cross Reef, Subi Reef, and Panganiban Reef. The three reefs' strategic locations give China control of nearly the entire South China Sea. "In February, AMTI identified eight hardened shelters with retractable roofs at each of the Big Three, which Reuters had earlier reported would house missile launchers." An additional four are being built at Fiery Cross, with Panganiban and Subi likely to follow.
What should be more disturbing to the Philippines is that in addition to powerful radar arrays, Panganiban Reef, like Fiery Cross and Subi, has a newly-built runway from which China can launch a wide variety of military aircraft. Chinese jet fighters launched from Panganiban Reef will be able to control the skies well beyond the entire island of Palawan.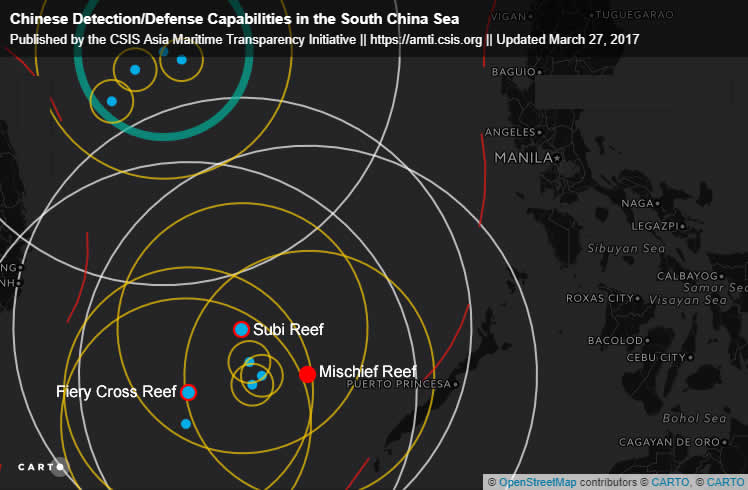 China's reach from the Panganiban (Mischief), Subi, and Fiery Cross reefs. Yellow circles  show radar coverage, larger white circles show fighter aircraft coverage. (CSIS/OpenStreetMap/Carto)
An earlier AMTI report noted: "On Mischief Reef, the hangars for 24 combat aircraft have been completed and in early March construction teams were putting the finishing touches on five larger hangars. A finished radar tower stands in the middle of the reef and a trio of large towers have been constructed on the southwestern corner. The recent placement of a radome on the ground next to one of these towers indicates that they will follow the same pattern as the identical sets at Fiery Cross and Subi. Retractable roofs are also being installed on the recently-built missile shelters."
At the end of its latest report AMTI notes: "Finally, construction is underway on very large underground structures—four at each reef—that seem likely candidates to house munitions or other essential materiel. Large buried facilities have previously been built on each of the islands for fuel and water storage, according to a recent Pentagon report."
It is certainly worth stating at this point that Panganiban Reef, as far as the UN tribunal ruling is concerned, belongs solely to the Philippines. It lies within the country's 200-mile Exclusive Economic Zone (EEZ). Philippine President Rodrigo Duterte has already wasted enough time trying to appease China and its President Xi Jinping, to no avail. The longer we delay, the more powerful and entrenched China will be.
Duterte is right in now seeking America's help after being personally threatened by Xi with war. But given China's current strength, even the United States cannot take on China alone. As we pointed out in previous editorials, the Philippines must be at the forefront of forming a global coalition of nations that will unite and stand up to China. As a signatory to the United Nations Convention on the Law of the Sea (UNCLOS), China has to abide by the UN tribunal's 2016 ruling. Published 7/4/2017