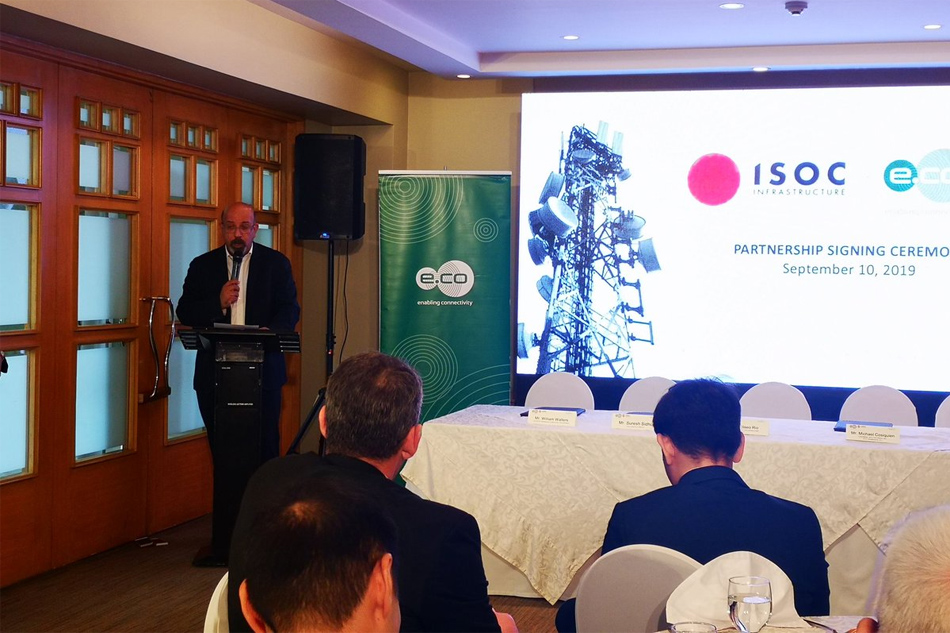 MANILA – Common tower firm ISOC edotco Towers Inc aims to build 400 to 500 shared cell sites in its first year of operations to upgrade the country's telecommunications space, its officials said Tuesday.
The 50-50 joint venture of Malaysia's edotco and Philippines' ISOC Infrastructure Inc, which was formally introduced Tuesday, set a combined initial investment of $ 10 million, said ISOC chairman Michael Cosiquien.
Millions of Filipinos are set to benefit from the partnership, he said.
ISOC edotco Towers Inc is planning to build 400 to 500 common towers during the "first year or so," edotco Group CEO Suresh Sidhu said pic.twitter.com/BGmVDFSjoK

— Jessica Fenol (@JessFenol) September 10, 2019
"ISOC and edotco's combined expertise, particularly in common towers, will help improve and upgrade the country's telco infrastructure," Cosiquien said.
Common towers will enhance the capacity of telecommunications providers and speed up infrastructure rollout, Department of Information and Communications Technology (DICT) Usec. Eliseo Rio said.
The country has 17,850 cell sites, which means 4.14 towers for 1,000 subscribers or at least 4,000 people share one tower, Rio said, adding that the Philippines has one of the lowest tower densities in the region.
Shared cell sites will allow telcos to have "greater focus" on their core business of delivering connectivity to subscribers and will also pave the way for 5G rollout, edotco Group CEO Suresh Sidhu said. Both partners in the venture "agreed" to invest up to $ 100 million in the next few years, he added.
"Partnering with local leading players is a key strategy for us to ensure we are meeting the country's specific needs and we see this collaboration with ISOC as a catalyst to enae the transformation within the Philippine telecommunicatiin sector and lay the right foundation for the country's digital readiness," Sidhu said.
ISOC and edotco earlier signed common tower deals with both Globe Telecom and Smart and is currently negotiating with third telco player Dito Community, edotco country managing director William Walters said.
"The scope for the moment is that we're planning to build towers for Globe. Smart has expressed a lot of interest in co-locating and we're looking at building for Smart as well in the next few weeks or so," Walters said.
Edotco operates and manages 29,900 towers in Malaysisa, Myanmar, Bangladesh, Cambodia, Sri Lanka and Pakistan.
ISOC earlier submitted a proposal to build 25,000 common towers in the Philippines.
Common towers will help lessen the costs of mobile connectivity while making delivery of services faster, DICT Sec. Gringo Honasan earlier said. The first draft of DICT's common tower policy may be released by the end of September, he said.
The government plans to build at least 50,000 common towers within the next 5 years and is expecting $ 3.4 billion in foreign direct investments for the towers, Rio said. It is also prepared to subsidize the building of telco towers in "missionary" or hard-to-reach areas, he added.