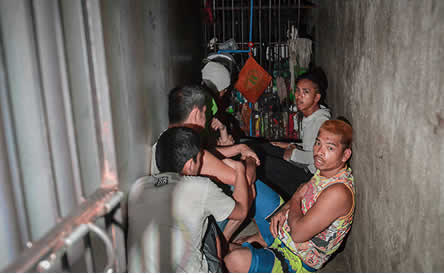 In this April 27, 2017 photo, detainees crouch on the floor inside a secret jail after being discovered by the Commission on Human Rights at Police Station 1 at Tondo district in Manila, Philippines. Photo: (AP) – sunstar.com

fugao Representative Teddy Brawner Baguilat is set to file a resolution urging the House of Representatives to immediately conduct an investigation into the alleged secret police cell in a Manila station where drug suspects are allegedly held until they cough up money.
Acting on a tip, lawyers of the Commission on Human Rights went to a police station in Tondo and were shocked to see about a dozen men and women locked in a cell hidden behind a shelf. 
The detainees claimed they were being held against their will until they paid P40,000 to P200,000 demanded by the police.
The station chief has since been relieved of his duty but Baguilat said more should be done considering the blatant disregard for the rights of the detainees, who are presumed innocent and entitled to due process. That the police demanded payment has made the situation even worse.
"I commend the Commission on Human Rights for doing its duty to the people, which is to protect them from abuse of State power.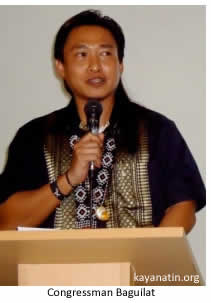 This is a clear instance of abuse of power by the very same people who are supposed to protect us," said Baguilat, "What happened here is a disgrace to the uniform and a violation of the policemen's oath to serve and protect the people."
Baguilat also expressed hope that the House of Representatives, headed by Speaker Pantaleon Alvarez, would immediately take up the issue and not just sweep it under the rug, like what the Speaker did with Baguilat's call for an investigation into extrajudicial killings.
"This is an issue of vital concern. It was a good thing that the CHR got wind of the existence of such a secret cell.  But we have to find out if there are more out there, whether taxpayer's money is being used to build and hide them, why our police administrators don't know about them, or if they do know about them, why they are tolerating this abuse of people's rights," Baguilat said. Published 4/29/2017