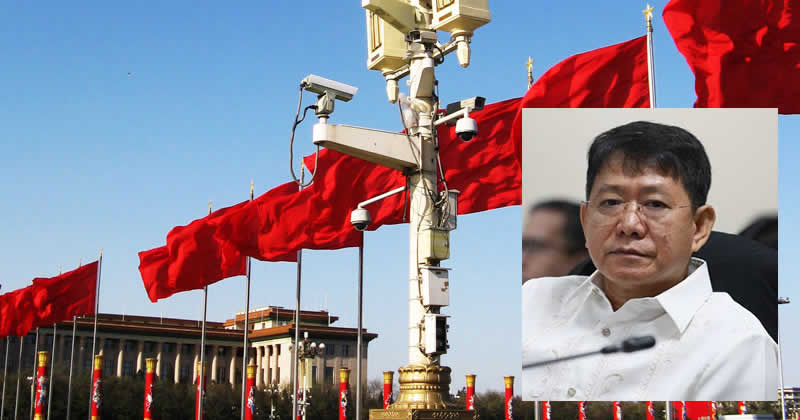 CCTV cameras in China. DILG Secretary Eduardo Ao (insert) Photo: Flickr, Hiddenninjaskills, Philstar

r is he just mouthing the talking points fed to him by Malacaang (or Beijing). The beleaguered Philippine Secretary of the Interior, Eduardo Ao recently said that the security concerns raised by some lawmakers with regards to the P21-billion surveillance and monitoring project of the Department of the Interior and Local Government (DILG) and China's China International Telecommunications and Construction Corp. (CITCC), was nothing to worry about.
The initial phase of the project, also known as Safe Philippines, plans to install 12,000 closed-circuit video (CCTV) cameras in both Metro Manila and Davao City. Senator Ralph Recto voiced concern that Chinese telecom manufacturer Huawei will provide much of the equipment for the project. The United States, Australia, New Zealand, Great Britain, Canada, Japan, India, and Taiwan are just a few of the countries that have banned or are planning to ban Huawei hardware amid security concerns.
In fact, Canada recently detained that company's CFO Meng Wanzhou in Vancouver at the request of the U.S. authorities for violating their laws against doing business with Iran.
In light of all this, Ao has nonetheless decided to plunge headlong into a project that could give the Chinese easy access to thousands of CCTV cameras—cameras that could eventually cover the entire Philippines.
In an article in The Philippine Star, Ao countered that "the public doesn't have to worry about data breaches in the project as there will be no storage of classified data or information inimical to national security in the CCTV system." But what Ao fails to realize is that China is not interested in the Philippine's data, classified or otherwise. It is more interested in the live feed from the thousands of CCTV cameras hooked-up to the system.
The Chinese Communist Party already has thousands of such cameras across China. They then use sophisticated artificial intelligence (AI) algorithms that combine biometric data to allow them to track practically anyone they want. China has publicly stated that it intends to soon lead the world in AI. With larger and faster supercomputers, China can easily extend its reach across the West Philippine Sea to the Philippines, to become "big brother China" closely watching everything Filipinos do.
Many Pinoys thought they dodged the bullet in 2007 when the Arroyo administration's kickback-laden National Broadband Network (NBN) deal with another Chinese telecom giant ZTE (a company many Western nations refuse to deal with as well) was exposed by whistleblower Jun Lozada, Jr. The NBN-ZTE project would have given China access to all government broadband communications—voice and data—throughout the Philippines.
Well, that scheme did not pan out, so China is at it again, this time with Ao's Safe Philippines project. And the icing on the cake, as far as Chinese are concerned, is that aside from the unprecedented access they will have to spy on Filipinos, the Filipino people themselves will foot the 21-billion-peso bill for setting it all up. As they say in Pilipino, niluluto tayo sa sarili nating mantika (they're frying us in our own oil) while laughing all the way to the bank. Published 12/17/2018