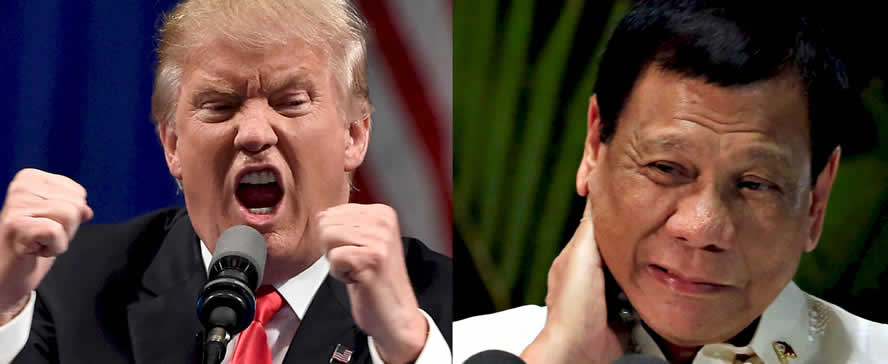 Presidents Donald Trump and Rodrigo Duterte

here used to be a time in our not too distant past when Pinoys copied everything Americans did. We had our local versions of famous American singers and movie stars like Nat King Cole, and Elvis Presley. During the Sixties and Seventies we dressed like hippies, listened to rock music, and got "high" because that's what Americans did.
Today however, it looks like we've reached a new milestone and things are now moving in the opposite direction. Leading this effort is none other than our dear president, Rodrigo Duterte. And surprisingly, it looks like Duterte's biggest fan and copycat is none other than U.S. President Donald J. Trump.
Trump seems to have a fascination with totalitarian leaders like Russia's Vladimir Putin and China's Xi Jin Ping, but he likely just following what Duterte did in 2016. In October of that year, Duterte said in a speech in Beijing, "I've realigned myself in your ideological flow and maybe I will also go to Russia to talk to (Vladimir) Putin and tell him that there are three of us against the world – China, Philippines and Russia. It's the only way." This was months before Trump was sworn in as president.
Then Duterte got rid of his number one critic by jailing Sen. Leila de Lima. Trump followed suit by firing FBI Director James Comey.
Duterte next set out to have the chief justice of the Supreme Court Maria Lourdes Serreno impeached. Seeing this, Trump is now considering firing special counsel Robert Mueller.
But while all Trump can do is fire people, Duterte's enemies actually end up in jail…or worse. Ask Senator de Lima who has been detained since February, 2017 on trumped-up drug charges.
Even when Trump tweets negative things about this or that country, Duterte beats him by actually insulting foreign leaders, countries, and institutions like the United Nations. Along the way Duterte has hurled insults at former U.S. President Barack Obama, Canadian Prime Minister Justin Trudeau, former Colombian President Cesar Gaviria, US ambassador Philip Goldberg, UN Rapporteur Agnes Callamard, and even Pope Francis, to name just a few.
When Trump said in the now famous Access Hollywood video that he grabs women by the p***y, Duterte made Trump's comment appear tame when he told his soldiers to shoot female rebel soldiers in their vagina.
By all measures Duterte is way ahead of Trump. Pinoys can now boast to Americans, "your wannabe-tyrant president is nothing compared to OUR wannabe-tyrant president.
Duterte is most certainly in a league of his own. And Trump, try as he might, will never match him. Duterte has shown Pinoys that they don't have to be copycats. He is the original, and Trump is the copycat. Remember, nobody can beat the original. And Duterte is our "orig." Published 4/15/2018