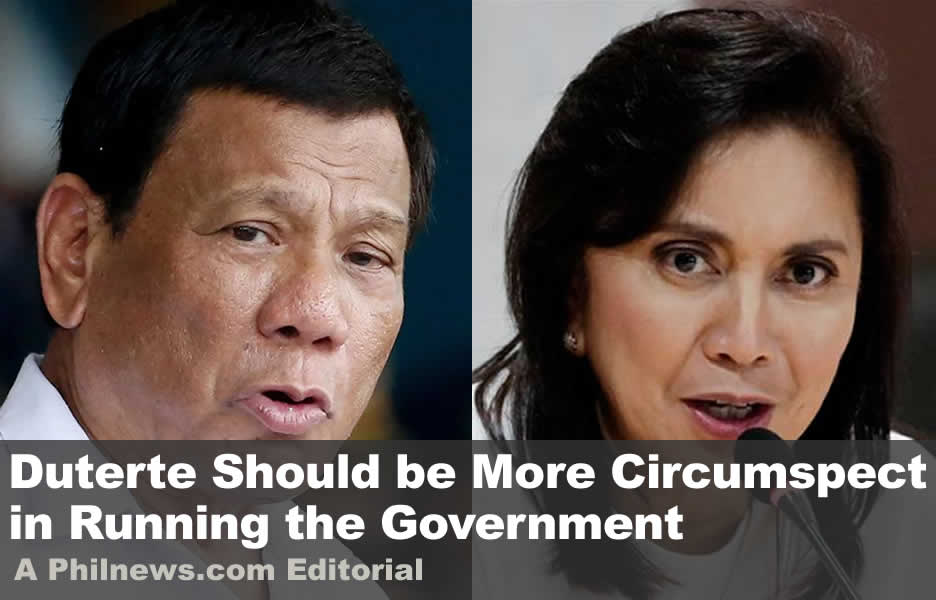 President Duterte and Vice President Robredo. Photos: SCMP.com/Al Jazeera.com

ritics of President Rodrigo Duterte point out that the sacking Vice President Leni Robredo highlights his administration's incompetence more then it highlights Robredo's shortcomings. Those critics add that it is not the way a responsible government should run.
As we noted in a previous editorial, the Duterte administration appears to operate primarily by instinct. There seems to be no adherence to the steps or procedures other legitimate governments—or responsible organizations—follow.
For instance, before a properly-run organization or government considers a candidate for a prominent position, that candidate must go through an extensive vetting process. That step avoids any public embarrassments like having to fire someone shortly after they are appointed or hired. As we noted above, selecting an unqualified candidate reflects poorly on those making the selection.
In an interview with CNN Philippines, Duterte said that "I fired her in my mind. Noon pa, first day pa lang nung sabi niyang punta siya sa (when she said she would go to the) US Embassy." From his own statement, it also appears that his administration had not defined the scope of Robredo's job. A post as significant as the Philippines' drug czar should have clearly defined duties and responsibilities.
Finally, the fact that Robredo was so quickly let go hints at the fact that Duterte had no intention of giving her a chance to succeed. Either that, or the president, or his advisers, quickly realized that Robredo might end up uncovering things that they wanted to be kept secret.
The entire matter appears to have been completely unnecessary. Not only was it a waste of time for everyone concerned, it made the Duterte administration, and the president himself, appear amateurish and incompetent. Antics such as these are more common in small, poorly run, organizations. In well-run organizations and governments, however, those things hardly ever happen. Published 12/01/2019