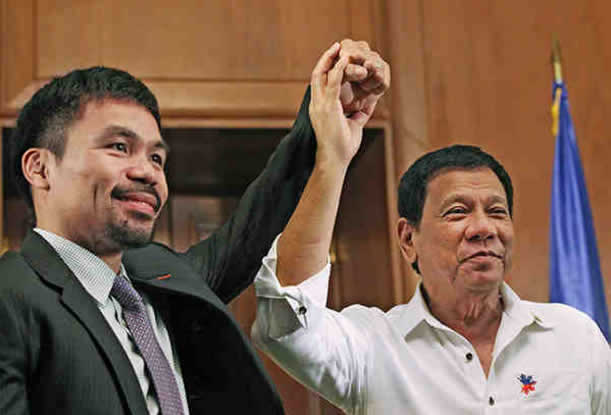 President Rodrigo Duterte raises the hand of Sen. Manny Pacquiao during a courtesy call at Malaca�an in December 2016. The STAR, File

hilippine President Rodrigo Duterte repeated statements he made a year ago regarding boxing legend and current senator, Manny Pacquiao: "Gusto kita gawing presidente" adding, "alam mo kaya mo" (I want to make you president—you know you can handle it). It was at Pacquiao's 39th birthday celebration, held at the packed KCC convention center in General Santos City.
"You have brought so much pride and joy to our country for being the world champion in the field of boxing. The determination you have shown and the humility embodied in the glorious triumph are worthy of emulation" the president told Pacquiao before an enthusiastic audience of fans and well-wishers.
The question we and many Filipinos have to ask is: Was Duterte serious when he made that statement? Or is he just playing politics and pandering to Pacquiao's huge following? There is no question that as a world-renowned boxer Pacquiao has brought pride and joy to Filipinos everywhere. However, the jury is still out as far as Pacquiao the senator is concerned. A great boxer does not automatically become a great senator—or for that matter a great president.
In fact the president's detractors find Duterte himself—with his decades of experience as mayor of Davao City, unfit for the post he currently holds. But the Filipino electorate has spoken and the majority chose Duterte, just like a majority of voters will likely vote for Pacquiao should he decide to run for president.
During the late eighties and nineties a lot of Filipino movie stars and entertainers ran for elected office. Although the vast majority were obviously unqualified, their popularity allowed them to easily win in elections. One movie star who never ran for office, although his fame eclipsed all others, was Dolphy. He would have easily won any elected post he chose. Once asked why he didn't run for mayor of Manila, the silver screen legend replied: "Madaling manalo. Ang problema, pag-nanalo na ako" (winning is easy. The problem is what happens after I win). With those words Dolphy cemented his legacy as a great entertainer and a great Filipino. Even back then, his mindset was that of a Filipino from an earlier era—an era when government service was a serious calling and only the most capable, who chose to serve the people were voted into office.
Today is a different time. Anyone who thinks he or she can win, runs for public office whether they qualified or not. So now we ask you: What do you think about Duterte's choosing Pacquiao as his successor? Do you think Pacquiao will run for president? And if he wins, what kind of president do you think he will be. Also, how do you think the Philippines will fare under President Pacquiao? Send us your views and comments below. We'd like to hear from you. Published 12/19/2017