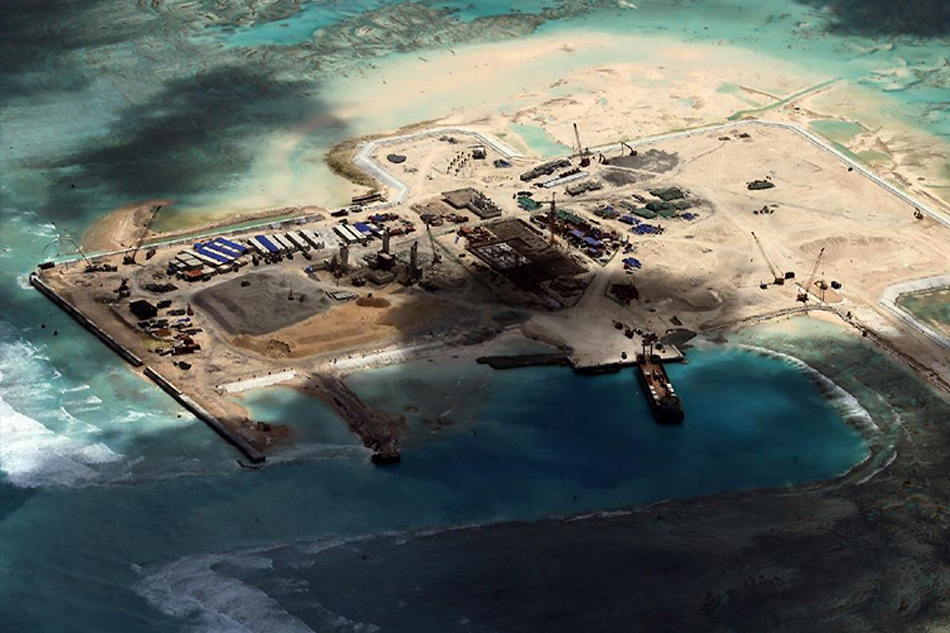 MANILA – President Rodrigo Duterte on Wednesday again defended his stance on the South China Sea dispute, suggesting it was already pointless to question China's deployment of its air assets to its artificial islands in the Spratlys.
Reports and recent satellite photos confirmed that China has deployed a military aircraft to a base it built on a reclaimed island in the South China Sea, indicating Beijing is now moving to further cement its military presence in the disputed sea.
Duterte, who has chosen not to antagonize China, said Beijing's deployment of military aircraft to the Spratlys should no longer come as a surprise.
"There is an airport. There are missiles there in store. There are military equipment already in place. So what's the point of questioning whether the planes there landed or not? There's an air strip," Duterte told reporters in a chance interview in Malacañang.
The Asia Maritime Transparency Initiative published photos taken from April 28 showing a military aircraft, a Shaanxi Y-8, at Subi Reef in the Spratlys.
AMTI said the Y-8 was "designed as a military transport aircraft, but some variants are used for maritime patrol or signals intelligence."
"This should be particularly concerning to the Philippines, which has about 100 civilians and a small military garrison on Thitu Island just 12 nautical miles away," the think-tank said.
It added, with the recent deployment, military aircraft have landed on all three of China's airstrips in the Spratly Islands after a naval patrol aircraft also landed at Fiery Cross Reef in April 2016 and 2 Xian Y-7 military transport aircraft were seen on Mischief Reef in a photo dated January 6.
The Permanent Court of Arbitration ruled in 2016 that Mischief Reef is part of the Philippine continental shelf.
Apart from the aircraft, military jamming equipment were also sighted in Mischief and Fiery Cross reefs. AMTI said the systems were visible in satellite imagery of Mischief from at least mid-February, and were still present as of May 6, although placed under covers.
Duterte stressed that antagonizing China would not do the Philippines any good, as it cannot match the Asian nation's military power.
"You want us to wage war? Because I can. I can declare war against China tonight. But who will come? My soldiers and cops? They will just die," Duterte said.
"Why will I go to war for a battle I cannot win? That would make me a fool."
Since assuming the Presidency, Duterte has chosen to downplay Manila's South China Sea dispute with Beijing. He has also sought to diminish American influence in the country.
The Philippines and China have for decades been embroiled in a dispute over the South China Sea. It reached a critical point during the presidency of Duterte's predecessor, Benigno Aquino III, who approved the filing of a case against Beijing before the Permanent Court of Arbitration in 2013.
The tribunal ruled in favor of Manila in 2016, declaring China's expansive nine-dash line claim to the sea invalid. Beijing has ignored the landmark ruling.
The President said he won't raise Manila's victory yet, noting the Philippines is benefiting from the friendly ties between the two Asian nations.