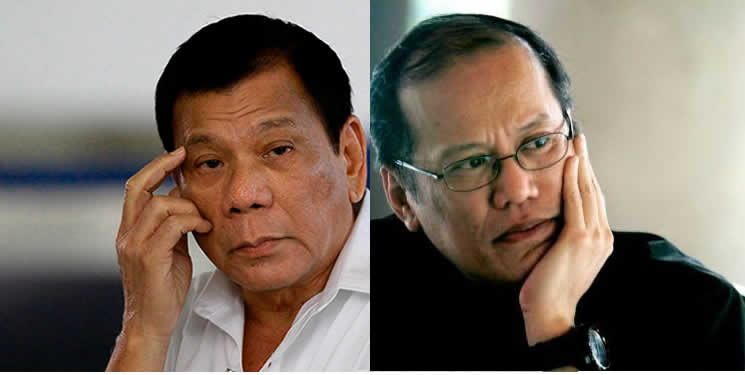 President Rodrigo Duterte (left) and former President Benigno Aquino III.
(PNL file photos)

hilippine Ombudswoman Conchita Carpio-Morales just filed criminal charges against former president Benigno Aquino III for the blotched military operation commonly known as the Mamasapano Massacre. Former Philippine National Police (PNP) Director General Alan Purisima and former Director Getulio Nape�as of the Special Action Force (SAF) were likewise charged along with Aquino. The three headed the 2015 police operation codenamed Oplan Exodus where 44 SAF police officers were killed by the combined rebel forces of the Moro Islamic Liberation Front (MILF) and the Bangsamoro Islamic Freedom Fighters (BIFF).
Many say it was a blotched police/military operation and the families of the 44 police officers killed, including those who survived, pin the blame on Aquino. While the operation succeeded in killing Zulkifli Abdhir, an international terrorist and expert bomb-maker from Malaysia, the SAF members were eventually surrounded by MILF and BIFF rebels and many were killed.
A lot of questions about the incident remained unanswered during the Aquino administration. Oplan Exodus it seems was poorly planned, with little to no contingencies, scarce resources, and an appalling lack of coordination with military units in the area. The Filipino public needs to hear from Aquino, Purisima, and Nape�as. And if any of them are found guilty, they should suffer the consequences.
This is also a shot across the bow at current President Rodrigo Duterte and his administration. No one is above the law. Even though as president you may see yourself as invincible and beyond prosecutorial reach, you will be made to answer for your actions after you step down. Duterte might believe that his high public support will shield him from criminal charges, but he could be sorely mistaken. And, like former dictator Ferdinand Marcos, Duterte might try to cling to power in order to avoid prosecution, but sooner or later, that too will fail like it did for Marcos in 1986. So learn from the past Mr. President and remember that you and your men are not above the law. Published 7/15/2017