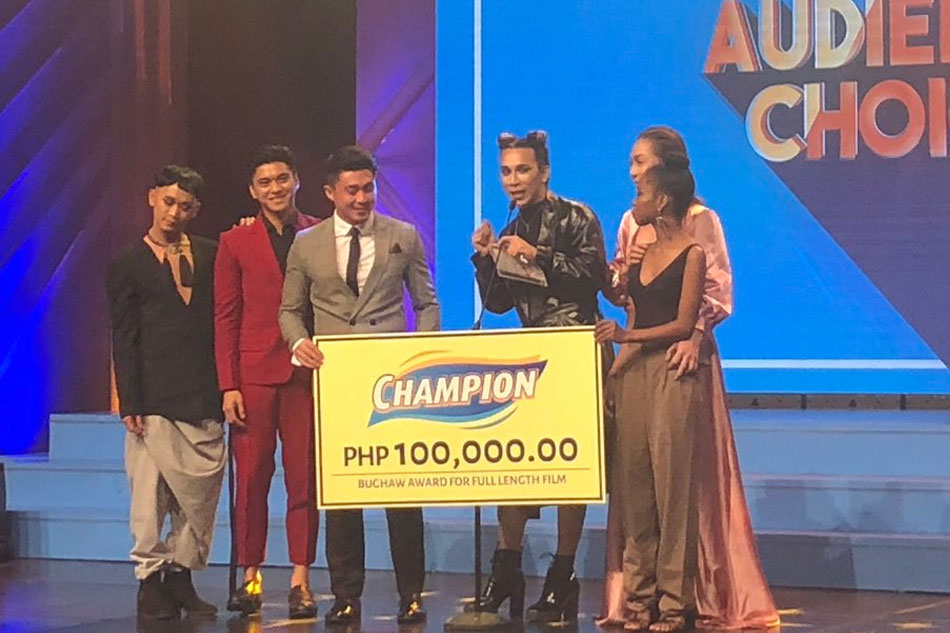 MANILA – Fans took to social media to congratulate the winners of the recently concluded Cinema One Originals Film Festival.
Among the most-talked-about topics on Twitter were Iyah Mina and Alwyn Uytingco, who bagged the best actress and best actor awards, respectively.
What made Iya Mina's win more special is the fact that this is the first time in Philippine film history that a transgender woman was recognized for playing a lead female role in a movie.
Congrats #MamuAndAMotherToo #C1Originals 2018 winner for best Actress Iyah Mina, best supporting Actor Aaron Villaflor and Audience Choice Award winner. pic.twitter.com/6GqpF5nvpM

— Drolan Legasvi  (@DrolanLegasvi) October 21, 2018
This is such an important happening for all of us who deserve acceptance and inclusion. I am so happy for the whole team of Mamu and A Mother, too. Mahusay kayo, @Real_iyahmina and Direk Rod Singh. Thank you for making us happy and proud!❤️ https://t.co/UbdeJ4JSJv

— chardie casiguran (@crazychardieC) October 21, 2018
Cinemalaya gave a transwoman a best actor award back in 2013 and now, cinema one originals awarded a transwoman, Iyah Mina, the best actress award and that is the right recognition. My heart is happy. She truly deserved it https://t.co/euBismW9rq

— RJ Da Vinci Roque (@jayroquex) October 21, 2018
A huge triumph for trans actors everywhere! A woman rightfully winning a category for women! Congratulations, Iyah Mina, direk @iamrodafrog and the Mamu team!!! #CinemaOneAwards @c1origs https://t.co/ITxVHHxcZR

— thysz (@thysz) October 21, 2018
Netizens also lauded Arron Villaflor and Mary Joy Apostol for their best supporting actor and best supporting actress awards.
Aaron Villaflor is the Best Supporting Actor!! Congratulations! #cinemaoneoriginals #MamuAndAMotherToo

— jacques (@JahKehhh) October 21, 2018
Magaling talagA tong si Mary joy Apostol nanalo syang best supporting actress sa C1originals sa film na Hospicio, baka kung nilaban sya for best actress baka mas may chance pa syang nanalo..nanalo narin sya date ng best actress sa film na bird shot ni direk Red… #NAKHimala

— susandelrey (@susandelrey1) October 22, 2018
Film enthusiasts, on Twitter, also shared their views on the winners of the best picture and best director awards.
#NEVERTEARUSAPART @whammyalcazaren wins best director and JURY PRIZE awards of #C1Originals #IAmOriginal Festival. Winning also Best Prod Design, Best Music, Best Editing and Best Cinematography awards.Congrats! @gianingweight @Beeyanks @SashaPalomares @jascurtissmith @ememita pic.twitter.com/ziaP8GBXZs

— Ronald Arguelles (@IamLavinia) October 21, 2018
Heart is full! This is when they announce Paglisan as best picture! Thank you team! #paglisan #paglisan2018 @Paglisan2018 pic.twitter.com/feKTbHVokF

— Christela ☀️☀️ (@itsClothy) October 21, 2018