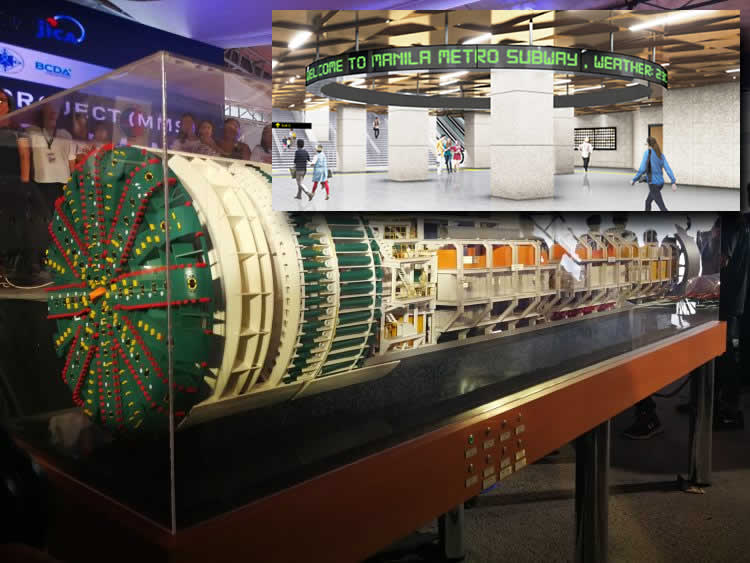 Scale model of the giant tunnel boring machine (TBM) that will create the underground tunnels for Metro Manila's new subway. (Inside picture) An artist's rendition of a subway station's underground concourse Photos: DOTr/facebook

n February 27, 2019, top government officials, mayors, congressmen and senators gathered in Barangay Ugong, Novaliches. With them was Japanese Ambassador Koji Haneda. They were there to break ground on one of the most ambitious infrastructure projects of President Rodrigo Duterte's "Build, Build, Build" Program: the P358.25 billion, Metro Manila Subway system. From its northern-most station on Mindanao Avenue in Quezon City, to its final stop at the Ninoy Aquino International Airport, the subway system will have at least 14 stations and will be able to make it from end-to-end in approximately 30 minutes, travelling at a top speed of 80 kph. That is at least 2 hours quicker than traveling by automobile.
Given the daily gridlock on roads all over Metro Manila, the proposed subway is without a doubt, a project whose time has been long overdue. Students and working adults who are forced to take public transportation go through an excruciatingly difficult commute every weekday morning. Then they have to do it all over again in the afternoon. Even Filipino expats who live and work in developed countries have difficulty wrapping their heads around what a herculean task it is to get to and from work or school for the average commuter in the Philippines.
And as usual, we Filipinos have no one to blame but ourselves. But maybe we can get this project right. For starters, we chose to partner with Japan instead of China, in our view that was definitely a smart thing to do. Next, maybe they should get the Japanese to design the entire system from start to finish—hopefully, they'll get it right. Because the existing LRT and MRT rail systems that currently exist are a mess. They're totally inadequate, the stations are filthy, the trains are old and smelly, when you get to the train platforms, you are greeted by security guards who do nothing but blow their annoying whistles all day—as if Filipinos are too stupid to know what to do, and they have to be prodded along like cattle.
Also, neither the MRT or LRT stations have parking spaces, so you there's no way to drive to an station to take the train. Incompetent management, corruption, and poor planning have made it even more difficult to ride the LRT or MRT trains. Passengers are packed like sardines with everyone pushing and shoving inside a rail car that oftentimes has a defective air conditioning system. It is no wonder that anyone with enough money to afford a car or motorcycle uses them instead of taking the train.
At the end of the day, our choice is straightforward: if we Filipinos aspire to become a first-world country, instead of a third-world or developing country, then we need to start demanding that we be treated the way citizens of developed countries expect to be treated. Having lived abroad for decades, I can say with certainty that citizens from developed countries will not put up with the incompetence, corruption, low quality, inadequate maintenance, and pollution that Filipinos have to put up with each and every day.
So let's change things and start demanding that everything be done better. Let's make our voices heard and tell our leaders—in no uncertain terms—if Filipino taxpayers are eventually going to end up paying for this new subway, you better make sure it is well planned, well designed, well maintained, and the best that we can afford. Because we're Filipinos and we expect the best. Published 3/1/2019

Metro Manila subway stations. Graphic: Rappler