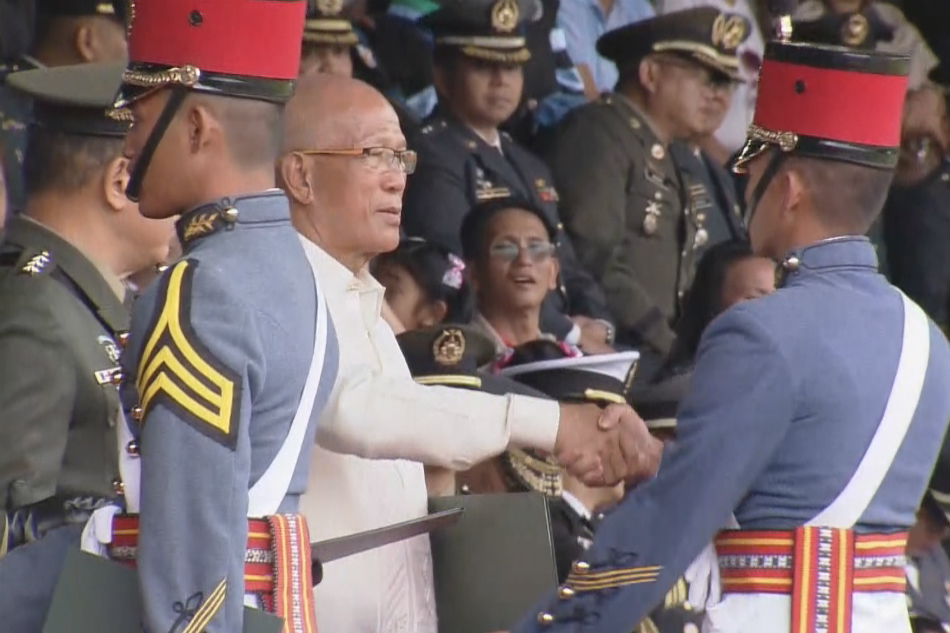 BAGUIO CITY – President Rodrigo Duterte delegated the distribution of most diplomas during the graduation of the Philippine Military Academy (PMA) to Defense Secretary Delfin Lorenzana, as he watched from his seat.
This is a first since he assumed office. In previous PMA commencement exercises, Duterte handed out the diplomas to all PMA graduates.
But on Sunday, the President only awarded the diploma, presidential saber, and the certificate of ownership to a house and lot to PMA Mabalasik Class of 2019 valedictorian, Dionne Umalla.
Vice President Leni Robredo then handed the award to salutatorian Jonathan Mendoza.
But for the rest of the graduating class, it was Lorenzana who awarded the diploma.
After the distribution of diplomas, the President again stood up to award the PMA 2019 class goat, Danmark Solomon with a caliber .45 gun. He also gave his watch to cadet Albert Jalaguit.
The graduation ceremony was delayed for close to two hours, after Duterte arrived late.
It was scheduled to begin at 9 a.m., but the President arrived a few minutes before 11 a.m.