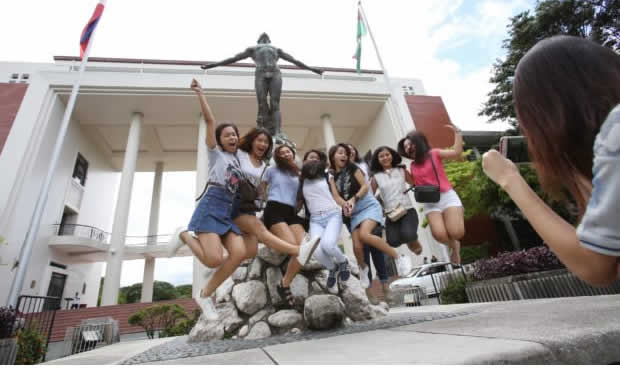 UP Diliman students jump for joy after the free tuition bill was signed into law. Photo: INQ—Ni�o Jesus Orbeta

hilippine President Rodrigo Duterte has signed into law a bill that grants free tuition to students in state-run colleges and universities. Called the Universal Access to Quality Tertiary Education Act of 2017, the new law, Republic Act (RA) No. 10931, left it to lawmakers and government executives to figure out a way to fund it, for the 2018-2019 school year.
While the new law has received widespread acclaim from students and the public in general, there were those who cautioned against it such as: Budget Secretary Benjamin Diokno, Socioeconomic Planning Secretary Ernesto Pernia, and Finance Secretary Carlos Dominguez III.
Signing this bill into law might just be Duterte playing to his base. After all, who is against college education for everyone? He may have seen it as a way to enshrine his legacy as the president who cared most about the youth. And in addition, should Duterte later decide to remain in power beyond his six-year term, he can point to this law as evidence that he has only the country's best interest at heart.
Duterte, who appears to be a shoot-from-the-hip type of person should have listened to his economic advisers and worked with congress to improve the bill to make it more cost effective and help only those who really need the help. As the bill he signed in to law last Thursday stands, all students enrolled in state-run colleges and universities will receive a free education. However, many students enrolled in the University of the Philippines (UP) for example, are not poor or needy. Many graduated from elite private high schools that charge exorbitant tuition fees. Those students will also now benefit from "Juan dela Cruz" paying for their entire tuition—even while other important government programs suffer from lack of funds.
And if this new and expensive law is improperly managed, it can even do more harm than good. Duterte should have taken his cue from Henry Sy's SM scholarship program which provides college scholarships only to students who graduate from a public high school, because those are the students who truly need the public's help in completing their tertiary or college education.
So we'll see where this all takes us. As many of our regular readers know by now, we are no fans of President Duterte. We see him as a manipulative, vengeful, and uncouth individual—a mini "Donald-Trump" of the Philippines if you will. But we wish him success here, and hope that he can first fix and then implement this law properly and fairly. We must all remember that a country's greatest asset is its youth. So good luck Mr. President…we'll be closely watching you on this one. Published 8/5/2017