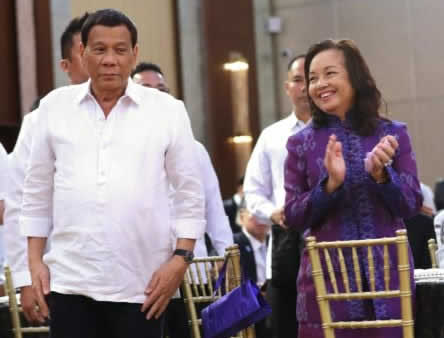 President Rodrigo Duterte and new Speaker of the House of Representatives, Gloria Macapagal-Arroyo. Photo: Robinson Nial Jr.

t was not that long ago that disgraced former president Gloria Macapagal Arroyo was busy cooling her heels at the Philippine Veterans Memorial Medical Center (VMMC). She had been ordered confined at the VMMC on plunder charges in connection with the alleged misuse of Philippine Charity Sweepstakes Office (PCSO) intelligence funds during her presidency.
Although that plunder case was dismissed by the Supreme Court in 2016, Arroyo still has a second case pending with the ombudsman's office. That case also involves the misuse of PCSO Intelligence funds, but covers an earlier time period. According to Arroyo's counsel, this pending case should have been dismissed together with the first.
Since her 2016 acquittal, the former president has endeavored to rehabilitate her tarnished public image. As an elected member of the Philippine House of Representatives, she has reconnected with Congress members and, some say, with the blessing of presidential daughter and Davao City Mayor Sara Duterte-Carpio, clandestinely orchestrated a power-grab for the speakership just before President Duterte's State of the Nation Address (SONA) on Monday, July 23. Characteristic of Arroyo's unbridled ambition, the entire event played out on nationwide television, with TV cameras, that were set in place for the president's address.
Arroyo and her supporters wanted to make sure she sat at the rostrum next to the president and the Senate president throughout the SONA. Unfortunately, the current Speaker, Pantalion Alvares refused to acknowledge her underhanded maneuver and retained the Speakership until after the president's speech, thus depriving Arroyo the TV visual she sought.
Though she is now officially, the Speaker of the House, outgoing ombudsman Conchita Carpio-Morales noted that her pending plunder case will still go forward regardless of her position. In a Philippine Star interview, Kilusang Magbubukid ng Pilipinas (KMP) chairman emeritus Rafael Mariano reminded Filipinos Arroyo's numerous shortcomings when she was president: "Let us not forget the 'Hello, Garci' scandal, the fertilizer fund and Malampaya fund scams, the massive corruption in the government and political killings that happened under Arroyo's term,"
Filipinos should also not forget the tainted NBN-ZTE Broadband deal that almost pushed through had whistleblower Jun Lozada, Jr. not exposed the kickback-laden deal to the public. ZTE would have set up the country's entire government broadband infrastructure, and would likely have provided the Chinese government the ability to listen in on any and all government communications.
Last but not least, Filipinos should not forget Gloria Arroyo's secret agreement with China called the Joint Marine Seismic Undertaking (JMSU) in 2004. The details of that agreement were kept so secret that even Philippine senators and congressmen had no idea what was really taking place. It was only when the foreign press got hold of leaked details, that the extent of her shamelessly lopsided deal was revealed … which she quietly ended to avoid further embarrassment and possibly impeachment. (Read our past editorial here).
This is the country's new Speaker of the House, an individual whose detractors complain lacks a moral compass. Arroyo's opponents point out that she never won a fair election for the office. As vice president, she first assumed the presidency after EDSA Dos removed then President Joseph Estrada from office. Initially promising to just complete Estrada's unfinished term, Arroyo instead ran for president in 2004 and won by allegedly rigging that election.
Arroyo thus managed to hold the office of president for 9 long years—3 years longer than the 6-year term limit stated in the Constitution. Aside from the fact that she stepped down after her term ended, she has little to show for accomplishments. Instead, during her administration, the level of cynicism and disgust in government was sky-high compared to her successor.
First the Marcoses, now the Arroyo's are being rehabilitated with what might be the tacit blessing of the current administration. Whether these rehabilitations actually take hold, or eventually rejected by the population, remains to be seen. Published 7/27/2018