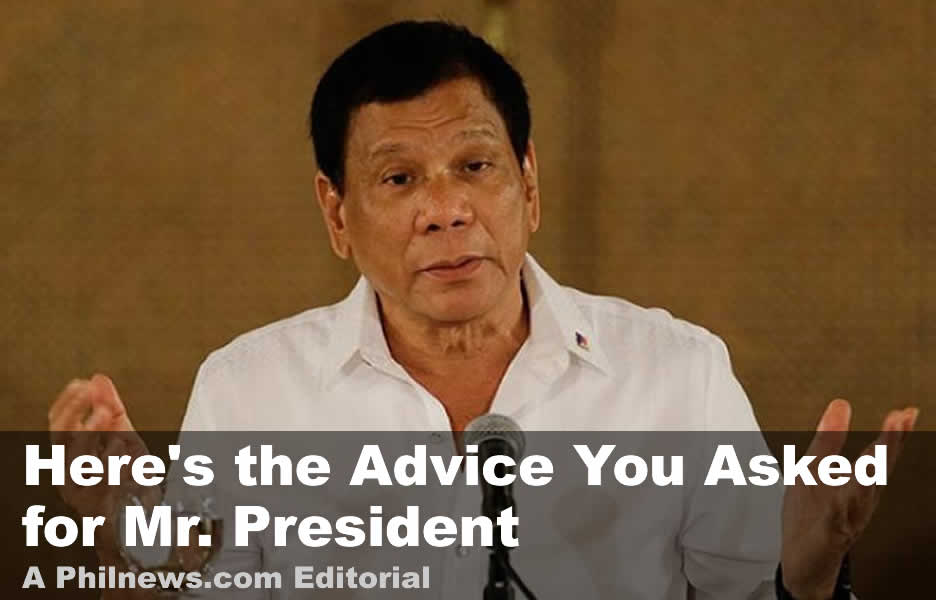 President Rodrigo Duterte talks to members of the press. File Photo: Yahoo News

n what appears to be an astounding admission that his administration is at a loss on how to deal with China's sweeping claims in the South China Sea, Philippine President Rodrigo Duterte recently turned instead to members of the press for their advice.
According to an AP News story published on September 5, 2019, Duterte told reporters "They're claiming it as their own, and the bad part is that they are claiming it as their historical right and they have the control over the property." Duterte continued, "that's our problem… If you can help by suggesting, is there any other suggestion? Or have you heard of any sane solution short of going to war with China saying, we will not budge?"
The president appears to be out of options at this point, and no one around can offer him sound advice. But Duterte's critics say he is solely to blame for his present dilemma. "He painted himself into a corner; now he's stuck with nowhere to go" declared a former supporter who sees Duterte's inability to stand up to Chinese President Xi Jin Ping as the root cause of all his problems.
Duterte asked the press for advice, so, here's our two-cents Mr. President
1. Become the statesman Filipinos can be genuinely proud of. Visit, Japan, Taiwan, Vietnam, South Korea, Malaysia and form a coalition of these likeminded countries who are as worried about China's hegemonic ambitions as we are.
2. Next, expand your coalition to include Australia, New Zealand, Canada, the United States, Great Britain, and all countries that see China as a bully and an emerging global hegemon.
3. Go before the U.N. General Assembly and ask that it impose sanctions against China for illegally occupying Philippine property.
4. Remind the U.N. that China is a founding member of the United Nations Convention for the Law of the Sea (UNCLOS) and it is therefore obligated to honor the U.N. Arbitral Tribunal's 2016 decision.
China can ill-afford all the negative publicity your actions will generate. But we also need to stress that none of these tasks are easy. Xi and his minions will oppose you every step of the way.
However, if you are a true statesman and are successful in this endeavor, you will make Filipinos truly proud. In fact, the entire global community will owe you a debt of gratitude. And you will go down in history as one who stood up to an authoritarian regime and made them comply with the rule of law.
So how about it, Mr. President? You still have almost three years left on your term to do this. Published 9/18/2019