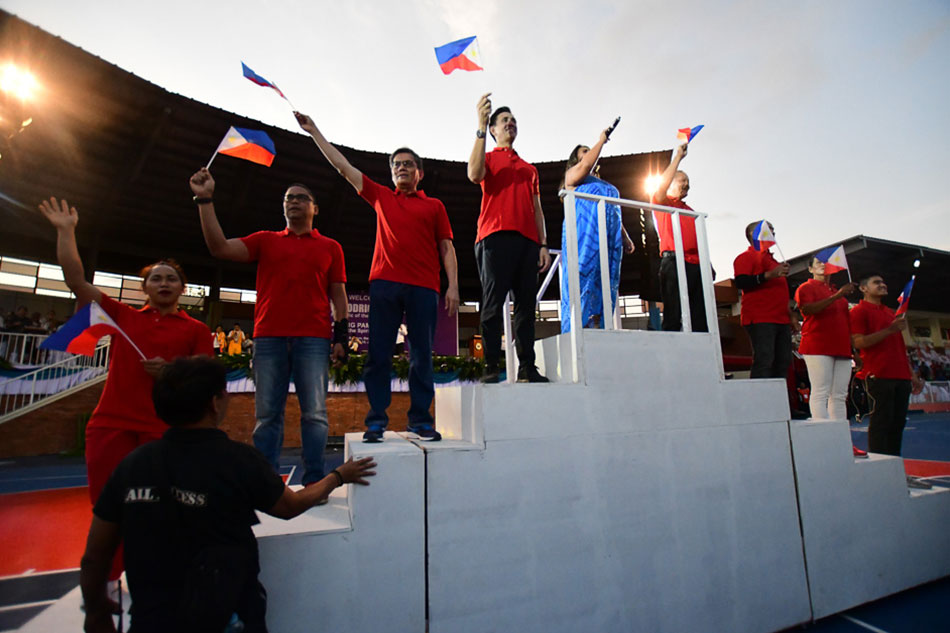 BANTAY, Ilocos Sur – Philippine sports icons crossed paths with their possible successors at the 2018 Palarong Pambansa as they graced the festive and vibrant opening ceremonies at the Quirino Stadium here in Bantay, Ilocos Sur Sunday.
Carrying the flag, 8 Filipino sports champions greeted the 10,000-strong student-athletes, who were clad with different color-coded uniforms and props, from different regions of the country, to share their journey toward greatness.
Present in the ceremonies were billiards world champion Efren 'Bata' Reyes, track and field multi-medalist Elma Muros, bowling world champion Paeng Nepomuceno, chess grand master Eugene Torre, basketball icon Mon Fernandez, Rio Olympics silver medalist Hidilyn Diaz and Youth Olympic Games gold medalist Luis Gabriel Moreno.
Moreno was also handpicked to light the cauldron through a bow and arrow while one of the greatest sprinters of the Philippines, Lydia de Vega, was awarded with a lifetime achievement recognition.
De Vega was not able to attend the ceremonies but her daughter and former De La Salle University volleyball standout, Stephanie Mercado, accepted the award in behalf of the her mother.
Athletes also braved the extreme heat as they paraded from Ilocos Sur's Capitol to the stadium, wearing their hats, jackets, and pants. Some even wore their traditional costumes like the athletes from MIMAROPA and Cordillera Administrative Region.
Other contingents also brought huge and fancy props which they used during their short presentation in the ceremonies.
Here are some of the scenes during the opening ceremonies of the Palaro:
Mark Demayo, ABS-CBN
Mark Demayo, ABS-CBN
Mark Demayo, ABS-CBN
Mark Demayo, ABS-CBN
Mark Demayo, ABS-CBN
Mark Demayo, ABS-CBN
For more sports coverage, visit the ABS-CBN Sports website.