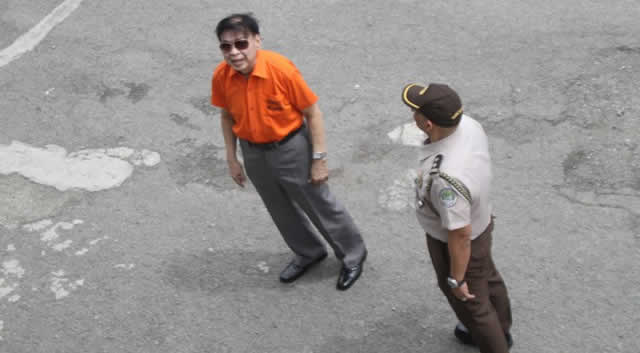 Antonio Sanchez (L) at maximum security compound, New Bilibid Prison on August 22, 2019. Photo: MANILA BULLETIN

he near commutation of convicted rapist and murderer Antonio Sanchez's prison term has opened a can of worms. The contents of that can of worms is now spreading across many parts of the Philippine government.
Sanchez, who was then mayor of Calauan, Laguna, was sentenced to life in prison for rape and double-murder of two college students in 1993.
The Good Conduct Time Allowance (GCTA) law passed in 2013 however, made it possible for Sanchez, and convicts like him, to be eligible for early release from jail.
Senate committees investigating the matter appear to have uncovered a syndicate that sold early releases via the GCTA program for hundreds of thousands of pesos. If a convict had the money, he could be a free man after paying the right people.
Sadly, this form of bribery appears to be systemic and widespread in the Philippines. It is not just in the Bureau of Corrections where you find this. You see it everywhere in this country—from the national level, down to the barangay level. You find corruption in the private sector as well. No part of the country is free from this menace.
It makes one wonder: are Filipinos inherently corrupt? Because corruption seems to be just a normal part of Filipino life. We bribe, we cheat, we lie—daily. And we think nothing of it. Strangely, this country might be unable to operate if corruption suddenly vanished overnight.
What is becoming overwhelmingly clear over time is that corruption is taking its toll on the country. We are not as efficient, or as progressive, or as wealthy, as we would be if there were no corruption. Life would also be less stressful if we could trust each other more.
Only a true national leader can move this country in the right direction. So far, starting from our first president, Emilio Aguinaldo, none have shown they have the ability to eradicate the country's endemic corruption. Published 9/9/2019