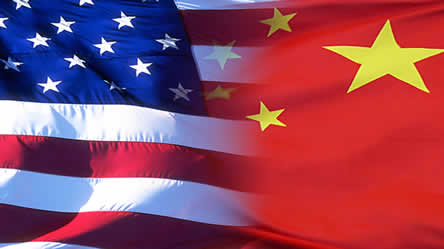 Graphic of American and Chinese flags superimposed. Photo: www.nationofchange.org

iven the United States' diminished influence in world affairs and China's growing power, especially in the Asia-Pacific region, was it wise for Philippine President Rodrigo Duterte choose China over the U.S. and the Philippines' strategic partner? Given China's rapidly rising star, it would seem Duterte has made a wise choice. As many Western countries are now realizing, the U.S. no longer seems to be a reliable ally.
In previous decades America could be relied on to champion the values of liberal democracy, individual rights, and individual freedoms. Today however, the country is divided, with serious problems of its own, and an inconsistent foreign policy depending on which political party is in power.
U.S. President Donald Trump has just recently angered his allies by imposing tariffs on many of their imports, while cozying up to Vladimir Putin and Russia. Trump now wants Russia allowed back into the G7—a grouping of countries that was once known as the G8 before Russia was expelled after it invaded parts of the Ukraine.
But even before Trump, Filipinos experienced America's inaction when it did nothing during the months-long standoff between the Philippines and China on Scarborough Shoal. And despite repeated warnings from his admirals, then President Barack Obama did nothing to impede the Chinese as they converted one Spratly island after another into fortified military outposts.
Given America's diminished role as a dependable ally, is it wise for the Philippines to choose China as its new primary benefactor? We don't think so.
China has significant problems as well. It is a Communist state where the ruling Communist Party controls everything. There is no transparency and Chinese citizens have little to no input on how their government operates. Individual rights in China can be taken away at a moment's notice.
Given the flaws of both the U.S. and China, we believe the Philippines has a better option—a third option. Our country should maintain cordial relations with both countries, making clear to the U.S. and China that we don't favor one over the other.
That way, we set our own destiny and make the most of our relationship with both. While we note above that America appears to be in decline, it is still a super power and will remain so for decades to come. China on the other hand is rising but will take decades to surpass the U.S.
This gives the Philippines a window of opportunity to forge its own way while remaining a true friend to both countries. Duterte would be wise to not push America away or become too close to China. Instead, we should deal with both equally at arms-length, and benefit from the advantage that friendship with both countries brings. Published 6/9/2018