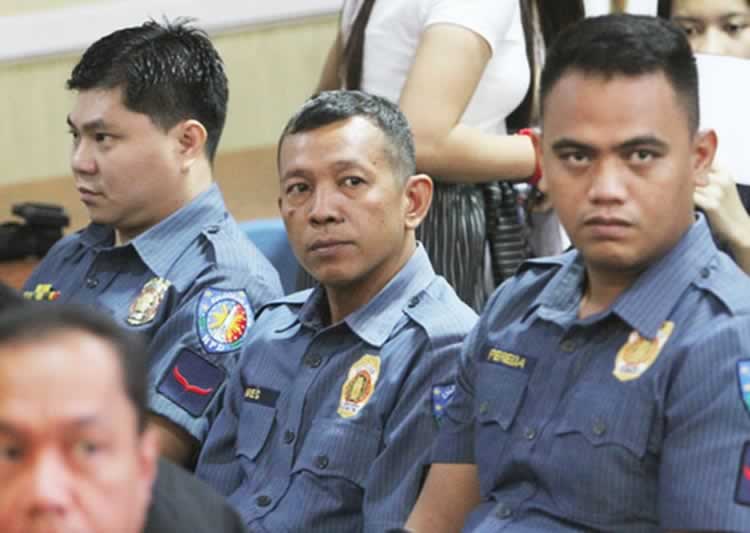 PO1 Jerwin Cruz, PO3 Arnel Oares and PO1 Jeremias Pereda | Photo Balita

n Thursday, November 29, 2018, Judge Rodolfo Azucena Jr. of the Caloocan City Regional Trial Court (RTC) handed down a guilty verdict against 3 Caloocan police officers for the murder of 17-year-old Kian delos Santos. A total of just 470 days separated the young man's murder, to the day Judge Azucena rendered his verdict—lightning speed for the normally lethargic Philippine justice system.
Lian Buan of Rappler writes that "Police Officer III (PO3) Arnel Oares, PO1 Jeremias Pereda, and PO1 Jerwin Cruz were convicted of murder on Thursday, November 29, by the Caloocan City Regional Trial Court (RTC) for killing Kian delos Santos during a One Time Big Time (OTBT) operation under the administration's banner campaign against drugs."
Dan Manglinong in his article in Interaksyon notes that "the police claimed that Delos Santos was an armed drug pusher who fired at them during the operation even though CCTV footage showed the student being dragged to his knees to the direction of a tunnel near the Tullahan River near Barangay 160, Valenzuela City, where his body was found." Manglinong also notes that "Some of the witnesses claimed that Delos Santos was given a gun and told to run."
None of the events surrounding Kian delos Santos' murder is unusual, as most Filipinos now agree. The level of impunity with which law enforcement operates in this current environment where extra-judicial killings continue unabated, has human rights groups across the globe demanding answers and accountability.
What is unusual—and has likely raised eyebrows across the country—is the fact that we have a judge who, in rendering his verdict, states that "never has homicide or murder been a function of law enforcement. The public peace is never predicated on the cost of human life."
Now if only our public servants in government offices and police precincts across our 7,100-plus islands take a cue from Judge Azucena, and start respecting each and every Filipino life, then there might be hope for this country. And tomorrow's Pinoys might have a brighter future than we have today. Published: 11/20/2018