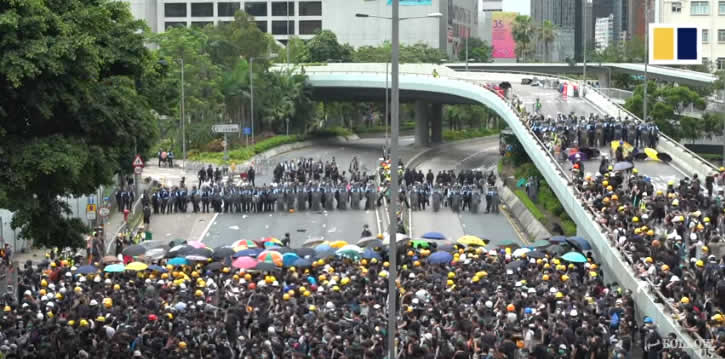 Student protesters and police face off in Hong Kong on July 1, 2019. Photo: South China Morning Post

f Filipinos wonder what life will be like under the supposedly "benign" rule of China—which thinks it now has de facto control over all of Southeast Asia—look no further than Hong Kong. For weeks Hong Kong has been racked with student demonstrations against what appears to be a Beijing-orchestrated extradition bill.
Last week over two million Hongkongers took to the streets to stop the bill from becoming law. And even after Hong Kong Chief Executive Carrie Lam agreed to put the legislation on hold, demonstrators demand that it be completely withdrawn and that Lam herself resign from her post.
On July 1, demonstrators were again out in force to make their voices heard during the flag-raising ceremony to commemorate the 22nd anniversary of the former colony's handover from Britain to China.
Hongkongers have experienced first-hand what life is like living under Chinese rule. Although there still appears to be the thinnest of veneers of the one-country-two-systems policy that Communist China had agreed to with Great Britain, Hongkongers realize that that system now exists only on paper. The reality is that China, a communist country, ruled by a totalitarian regime, has systematically choked-off the rights and freedoms of Hong Kong residents so that today only one-country and one-system exists.
Every Filipino should take these demonstrations seriously. Filipinos need to understand what Hongkongers are telling them with their street marches and their clashes with police. The rights and freedoms one expects in a democracy do not exist in a communist autocracy. And even if the Philippines has its own government, if that government is beholden to China, then the Chinese Communist Party exercises de facto control over Filipinos. Just ask our fishermen who can no longer fish in the waters off Panatag Shoal. Or the 22 whose fishing boat was rammed in the middle of the night and left to drown in Recto Bank. Published 7/1/2019