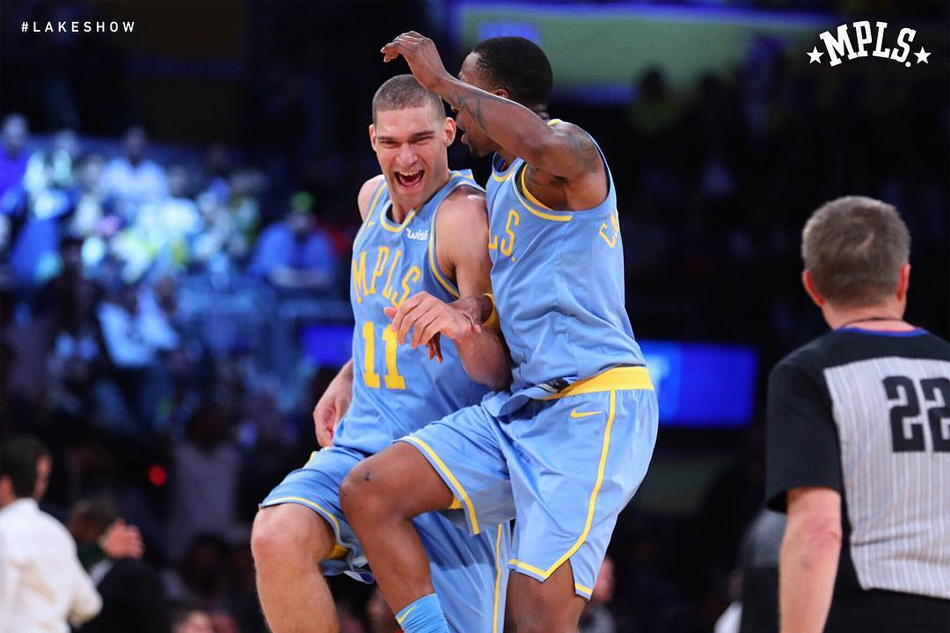 Brook Lopez nailed two free throws with six-tenths of a second remaining Wednesday night, allowing the Los Angeles Lakers to thwart an Orlando Magic rally for a 108-107 victory in Los Angeles.
Aaron Gordon capped a 10-0 flurry with a go-ahead basket with five seconds remaining in a frantic Orlando rally, before Lopez, fouled on a shot attempt by rival center Nikola Vucevic, calmly dropped in his game-winning foul shots.
After a timeout, the Magic couldn't get off a shot.
Lopez finished with a team-high 27 points and Kyle Kuzma added 20 as the Lakers won for the sixth time in their last seven games overall and seventh time in 11 games since trading for Isaiah Thomas last month.
Thomas contributed 13 points and a game-high nine assists to the win, which allowed the Lakers to break even on a two-game homestand after having lost, 108-103, to Portland on Monday.
(BLOG: Thoughts on Nance Jr. in Cavs starting five?)
https://sports.abs-cbn.com/nba/news/2018/03/08/blogtable-thoughts-nance-jr-cavs-starting-five-38651
Gordon had 28 points and 14 rebounds, both game-highs, for the Magic, who lost for the second straight time to open a five-game trip. Orlando was beaten, 94-80, at Utah on Monday.
The Lakers led, 106-97, with 2:18 to play before the Magic scored the game's next 10 points, including Gordon's go-ahead hoop with just five seconds left.
Los Angeles missed five consecutive shots, including four 3-pointers, before going to Lopez for the final shot.
Kuzma (10 rebounds to complement his 20 points) and Julius Randle (12 points, team-high 11 rebounds) recorded double-doubles for the Lakers, who were drubbed, 127-105, on their visit to Orlando in January.
The Lakers were outscored, 54-12, on 3-pointers that night. In the rematch, the difference was just 36-33.
Lonzo Ball, who missed the first meeting, had four of the Lakers' 11 3-pointers on a 16-point night.
Vucevic was the fourth player in the game to record a double-double with 24 points and 12 rebounds for the Magic, who lost for the fifth time in a row on the road.
Evan Fournier totaled 11 points, while D.J. Augustin dished off a team-high eight assists to go with nine points.
(For more sports coverage, visit the ABS-CBN Sports website.)