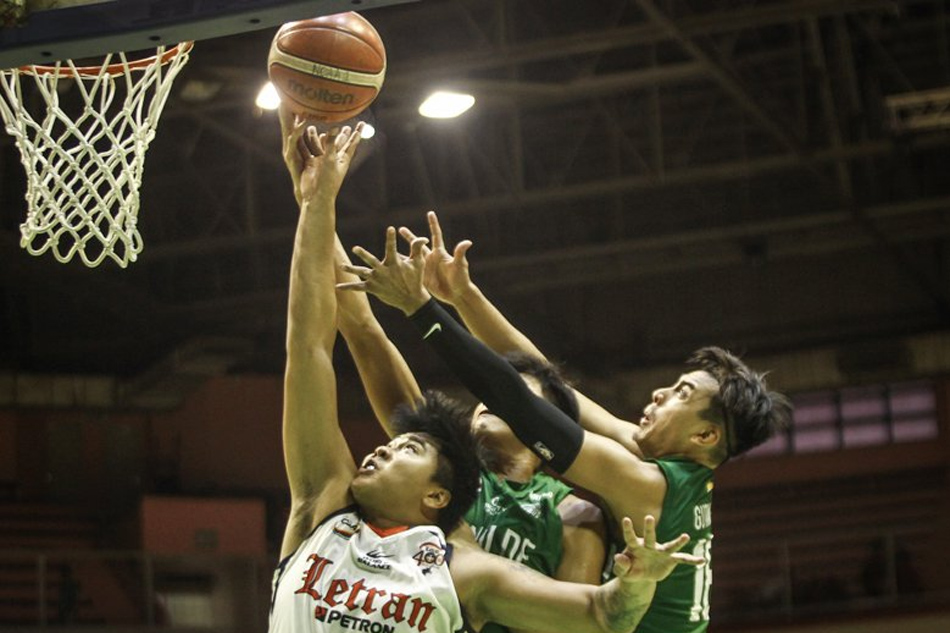 Ato Ular and Larry Muyang were much too much for Jose Rizal University to handle and powered Colegio de San Juan de Letran to a well-earned 81-61 win, Tuesday at Filoil Flying V Centre.
Ular and Muyang imposed their will on the undersized Heavy Bombers with the former finishing with 17 points and seven rebounds and the latter ending with 10 markers and five boards as the Knights charged to their second straight victory and seventh overall in 10 games in the NCAA 95 Men's Basketball Tournament.
The two did damage when it mattered most, combining for all but two points in the 14-2 run that widened a six-point edge, 61-55, to a 75-57 advantage with three minutes remaining.
The lead would even go as high as 20 with Fran Yu hitting back-to-back triples in the dying moments.
BOX SCORES
LETRAN 81 – Ular 17, Yu 16, Batiller 13, Muyang 10, Caralipio 6, Reyson 5, Ambohot 4, Balanza 4, Balagasay 2, Javillonar 2, Sangalang 2, Guarino 0, Olivario 0.
JRU 61 – Delos Santos 14, Amores 11, Arenal 10, Miranda 8, Aguilar 6, Dela Rosa 5, Vasquez 3, Dionisio 2, Macatangay 2, Abaoag 0, Jungco 0.
QUARTER SCORES: 18-19, 41-34, 54-49, 81-61
For more sports coverage, visit the ABS-CBN Sports website.