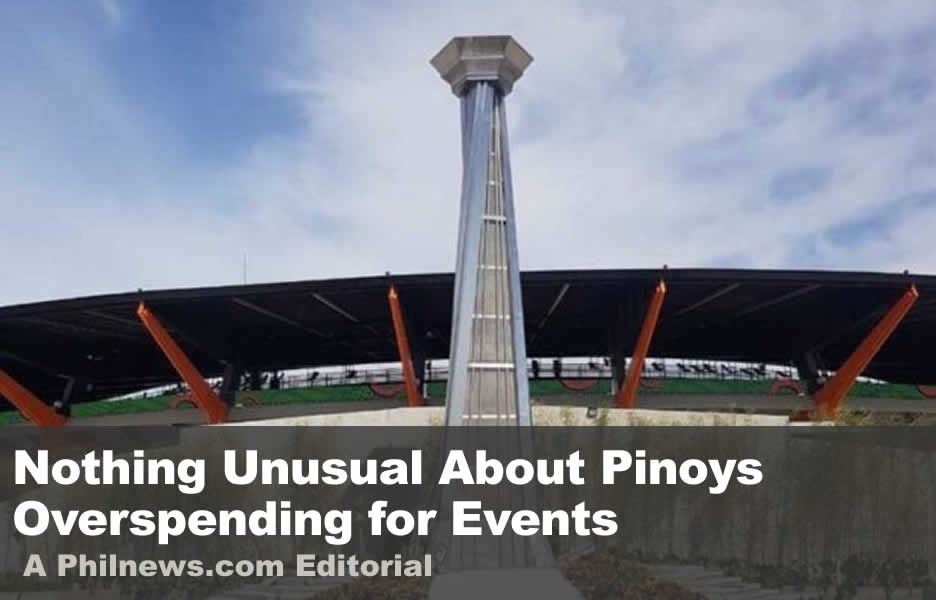 30th SEA Games cauldron. Photo: Inquirer.net/BCDA

here's nothing unusual about Pinoys spending P10 Billion for the Southeast Asian (SEA) Games to be held in the Philippines. The controversial cauldron alone, designed by the late renowned architect Francisco "Bobby" Maosa cost Filipino taxpayers over P50 million to build. Several articles by both the Manila Times and the Philippine Daily Inquirer highlighted Senator Francis Drilon's complaints about its cost. Drilon questioned why the Bases Conversion and Development Authority (BCDA), and the Philippine Sports Commission (PSC) were spending such large sums of money for a one-time event that would last just a little over a week.
According to Drilon, the P50 million spent on the cauldron alone would have bought the country 50 school classrooms. Given the country's current classroom deficit, those funds would have been put to better use by building classrooms instead.
But as we said in our opening, that shouldn't surprise anyone—we do it all the time. We Pinoys readily go into hock, spending lavishly during fiestas, weddings, anniversaries, or what have you, to impress the guests. We don't want to appear cheap, especially in the eyes of visitors. Maybe it is a sign of our insecurity; maybe we enjoy showing off; perhaps our priorities are somewhat skewed. Whatever the reason, we end up with more debt then we anticipated. And we find ourselves still paying for it long after the event is but a distant memory.
Perhaps Pinoys should have the courage to tell the world that the Philippines is not a rich country. We can still host the games and meet all the requirements without having to go all out and try to out-do everyone else. Foreigners will see that and most likely respect us even more. Published 11/23/2019