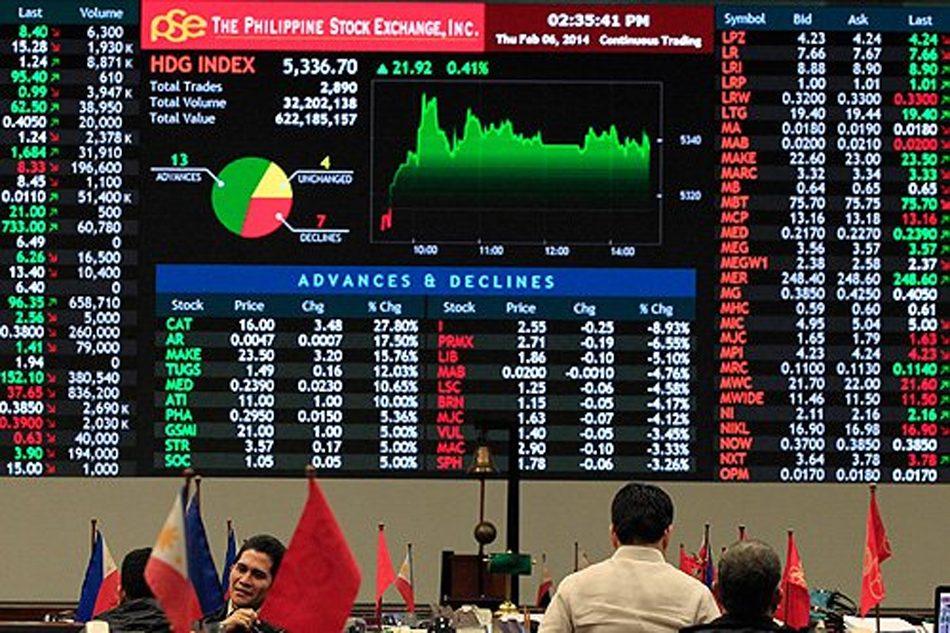 MANILA – Philippine shares bounced back on Thursday as the bull run in global equities powered Asian stocks to a near decade high.
Investors remain upbeat on President Rodrigo Duterte's tax reform program, even as senators fail to pass their version of the measure before they go on break at the end of the week, said China Bank senior vice president Patrick Cheng.
The Philippine Stock Exchange Index was up 0.31 percent to 8,384.32 in early trading. Cheng said that without major developments on the economic front, it would be difficult for the market to breach 8,400 points.
"I think the government will obviously try to make one last push," Cheng told ANC's Market Edge with Cathy Yang, referring to tax reform.
"If it really doesn't pass this year, then revenues will be delayed and it will give the market reason to sell off," he said.
MSCI's broadest index of Asia-Pacific shares outside Japan added 0.15 percent and is within a hair of the decade high touched in the previous session.
Japan's Nikkei was up 0.4 percent after brushing 20,980.92, its highest since December 1996. South Korea's KOSPI added 0.1 percent to mark a fresh record high.
Asia took cues from Wall Street, where major indexes rose to yet another set of record closing highs overnight following a report that a market-friendly candidate was being pushed as successor to Janet Yellen at the helm of the Fed.
Broader investor risk sentiment has improved this week after Catalonia dialed back plans to break away from Spain, with MSCI's 47-country world stocks index reaching a record high.
Global equities now appear to be taking geopolitical developments such as the secessionist push in Spain and tensions on the Korean peninsula in their stride to reach those record tops.
"Fundamentally, the global economy is in decent shape. Corporate sentiment is also sound as evidenced by strong data like the Chinese PMI, US ISM and Japanese tankan. All these factors are leading to the rise in global stocks," said Masahiro Ichikawa, senior strategist at Sumitomo Mitsui Asset Management in Tokyo.
"Financial markets will remain wary of geopolitical headlines. But barring actual military conflicts, negative responses by equities are expected to be short-lived."
The dollar index against a basket of 6 major currencies slipped to a 2-week low of 92.891 following the release of the Fed's last policy meeting on Sept. 19-20.
Fed policymakers had a prolonged debate about the prospects of a pickup in inflation and the path of future interest rate rises if it did not, the minutes showed.
While this did little to cool strong expectations for the Fed to raise interest rates in December, it did make the central bank appear slightly less hawkish than it appeared right after the September policy meeting when it signalled the year-end monetary tightening.
The dollar was particularly weak against the euro as relief over Catalonia stopping short of a formal declaration of independence supported the common currency.
The euro was 0.1 percent higher at $ 1.1871, its highest since Sept. 25 and on track for a fifth straight day of gains.
The dollar was 0.1 percent lower at 112.370 yen.
In commodities, crude oil prices fell after rising for 3 successive sessions.
Brent crude futures were down 0.5 percent at $ 56.66 per barrel. The contracts had risen for the third day on Wednesday as OPEC's forecast for higher demand in 2018 and heightened tensions in Kurdistan supported prices.
Spot gold was lat up 0.15 percent at $ 1,293.78 an ounce, supported by a weaker dollar.