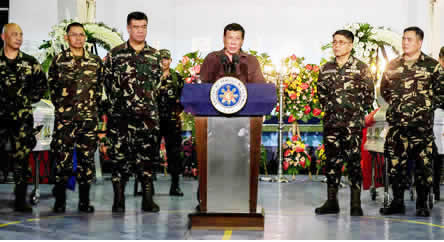 Philippine President Rodrigo Duterte delivers a eulogy flanked by military personnel. Photo: globalbalita.com

fugao Representative Teddy Brawner Baguilat has expressed serious concern that President Rodrigo Duterte is dangerously close to becoming a dictator and it may just happen without Congress doing its constitutional role to be a check against abuses by any other equal branch of government.
Baguilat has thus pleaded yet again for House Speaker Pantaleon Alvarez and House Majority Floor Leader Rudy Fari�as to convene and review the Martial Law declaration in the wake of the attacks in Marawi City, Lanao del Sur.
Baguilat was also alarmed by the president's pronouncement that he would not listen to any other body except the Armed Forces of the Philippines when it comes to what to do in Marawi City, and that even the Supreme Court should not stop him.
 "The president should understand that a true democracy can only function if there are adequate checks and balances and that these are respected. They are there for a reason, mainly to avoid any abuse of power by any one branch of government. But at the rate that he is going and based on his own words, he is fashioning himself to become a dictator, with no regard for what the other Constitutional bodies will say," said Baguilat.
The "true minority" group may be small in the House of Representatives, said Baguilat, but it would not standby idly and wait for the Martial Law declaration in Mindanao be abused and even extended to the whole country.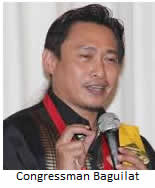 He stressed that Congress has a constitutional role to review any declaration of Martial Law, no matter how the administration justifies it. "We owe it to the people to seriously study the Martial Law declaration lest we become complicit to any possible abuse that this may lead to," said Baguilat.
He also stressed that to question a declaration is not tantamount to becoming unpatriotic or blind to the real problems that are besetting the people of Marawi, but rather the opposite. "We have our mandate from the people to prevent the dark history of Martial Law in our country from happening over again," Baguilat stressed.
He said earlier that the imposition of martial law is an "extreme measure" that must be treated with caution.
 "Some of our countrymen seem to think that martial law equates to security. We should remember that the primary effect of martial law is the suspension of certain civil rights, which lends itself to abuse," Baguilat said earlier.
 "The people need to know what the government intends to do with its extraordinary powers under martial law, how those activities relate to suppressing terrorist activities, and how the rights of innocent civilians will be protected," Baguilat added.Published 6/1/17