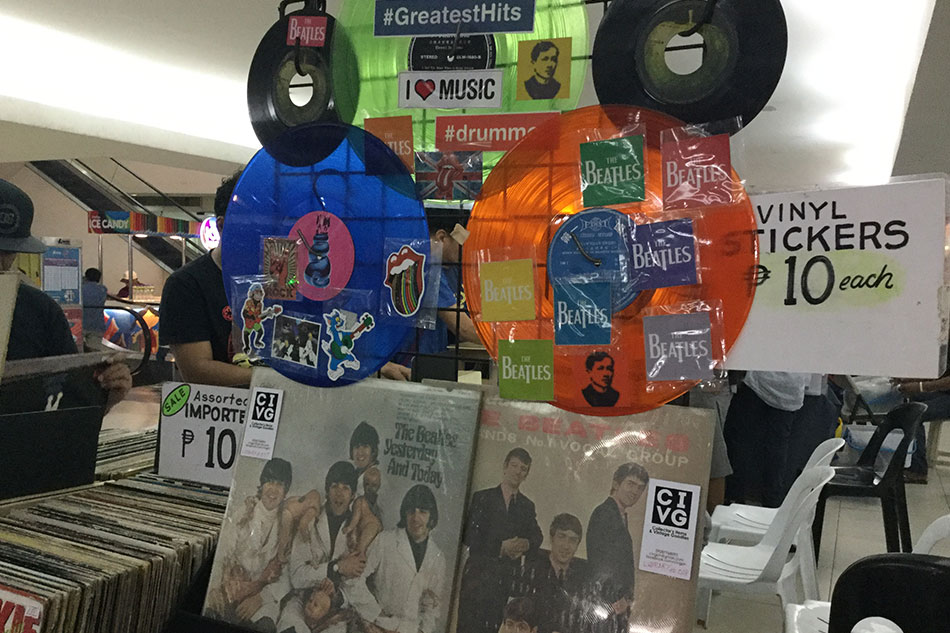 Just a few days into 2019, the new year already promises to be an exciting one for music lovers, besides the always huge Record Store Day scheduled on April 13, with the local version to be held in a venue that has yet to be named.
There are heavyweight stars with new albums. The Cure's first album since 2008 will drop. Shoegazers My Bloody Valentine will release a new album. Avril Lavigne is said to have a new effort with songs written about a personal crisis. There is going to be new product from Lana Del Rey, the Raconteurs, and Weezer to name but a few international artists.
And all these will be available on vinyl.
On local shores, the re-mastered "Ultraelectromagneticpop" album by the Eraserheads will go on sale and on vinyl for the first time too. Up Dharma Down's fourth album is also due for release (also on vinyl).
According to musician Diego Mapa, there are more local artists who will be releasing their music on vinyl this year, but the lineup has yet to be announced.
We spoke to a few local independent record stores about how vinyl fared in 2018 and how it is shaping up for 2019. The verdict is one of bright optimism.
Enzo Valdez and Lea David, Northwest Estate Collectibles
"We had a very good year last 2018 kahit marami na mga sellers ng vinyl. Malaking advantage 'yung every month we had thousands of new records to sell at very affordable prices. Since 'yung bulk ng mga plaka namin mga 1980s pababa, 'yung mga in-demand na records ay mga Beatles particularly 'yung 'Abbey Road' and 'Revolver,' The Carpenters 'Greatest Hits' and 'Close to You', any Abba record, America's 'Greatest Hits', Fleetwood Mac's 'Rumours', Carole King's 'Tapestry', and Pink Floyd. Any Pink Floyd record is popular. Queen mas popular ngayon because of 'yung 'Bohemian Rhaphsody' na pelikula.
"Malaking bagay din 'yung mga raffle ng mga special records such as 'yung signed America's 'Greatest Hits' or mga hard-to-find first pressings ng mga John Coltrane or Miles Davis. Or mga collection ng mga rare punk rock seven-inch records. Meron mga bumibili nu'n.
"Marami rin mga bagong customers and we hope na patuloy kami mag-reach out sa mga younger buyers na hindi lang bagong mga artists 'yung hinahanap pati na rin mga classics."
Bong Fulgoso, Plaka Express
"Last year, 2018, was our biggest year. With our new online store and a more active marketing plan for 2019, we expect a 50% improvement in sales. My observation is there are a lot of new faces and younger customers from 2017. The most in demand records are classic rock albums from Queen, Black Sabbath, and Led Zeppelin to name a few while older artists such as the Carpenters, Abba, and the Bee Gees remain strong. Interestingly, the buyers are millennials and they prefer the re-issues rather than the first pressings. For example, we have a first pressing of James Taylor's Greatest Hits, the will get the new pressings.
"I think the market and demand for vinyl will continue to grow this year as awareness of the medium is exponentially rising through the help of social media. People are appreciating the value of having physical copies of their music."
Roland Savellano, Lahn's Vinyl Shop
"Maganda benta ko ng plaka last year. The best so far. Every year, gumaganda ang benta kahit marami nang independent sellers. Ang mabenta sa aking mga Beatles, New Wave records, and mga 12-inch remixes.
"Sa tingin ko, mas gaganda pa ang selling this 2019 kasi yearly napapansin ko na pabata ng pabata 'yung mga buyers. Ang youngest buyer ko is 15 years old and studying in Stella Maris. Ang most recent purchase ay Frank Sinatra."
Arbie Bulaong, Treskul Records
"Sales were steady in 2018. The in-demand records are the hard to find New Wave records such as the Care, Friends Again, and New Order to name a few. Punk records remain popular as do soul music titles. Pop classics are always in demand.
"I also noticed that in the shop, we had a lot of new customers; mostly in their late 20s and 30s.
"My forecast for 2019 is we will do better because we sold a lot of entry level titles last year. And with new record plants opening overseas, that will mean more product and easier and less expensive access to records."
Al Rivera, Bear's Den Records
"For Bear's Den, sales were 30% better than the previous year. I think that is because of two things – one, more people are getting into vinyl, and two, because I got a stall at the Spindle Community at the Creekside Mall in Makati.
"The titles that remain popular are the Beatles, Pink Floyd, Led Zeppelin, Miles Davis, John Coltrane, Frank Sinatra . . . the essentials kumbaga. This is based on my observation at the Legazpi Street Sunday Market where there is a more pop-oriented market.
"But online, and for collectors, I noticed they look for more specific records. They dig deeper, ikanga.
"At the Sunday market, we always get new customers and different age groups since many of them pass through. When people there see the records, they're surprised so sometimes, they are inclined to buy because they think it's cool for them to have one (even if they don't own a record player) or they know someone who collects so they give it as a gift.
"For 2019, I think vinyl sales and interest will be better. Especially now that vinyl is moving into the mainstream because of the Eraserheads reissue. Aside from it being an Offshore Music project, it is also with Sony, a major company."