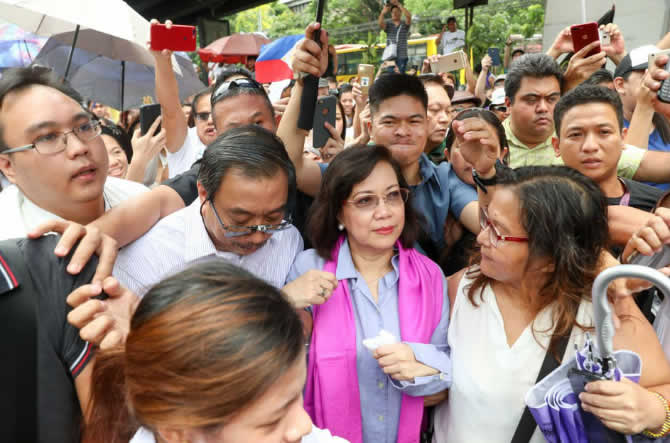 Ousted Supreme Court Chief Justice Lourdes Sereno emerges from the Supreme Court to meet with her supporters in Manila. Photo: Jonathan Cellona, ABS-CBN News.

eople the world over are left scratching their heads, wondering how such a thing can even happen in a constitutional democracy. A sitting chief justice was removed, not by impeachment as required by the Constitution, but by her fellow justices in an en banc 8 to 6 decision.
What's worse, Pinoy legal minds that ought to know better, have so far, failed to grasp the glaring unconstitutionality of such action. The Constitution says that only Congress can remove the chief justice thru an impeachment process …period! Unfortunately, Filipinos seem to have a "fuzzy" understanding of laws in general. Just look at how traffic laws are followed in the Philippines. Laws and rules are for others to follow, not me–appears to be the prevailing attitude nationwide.
In this instance, 8 justices decided to usurp Congress' authority and remove an impeachable public official. Instead of upholding the Constitution, Justices Teresita Leonardo-De Castro, Diosdado Peralta, Andres Reyes, Jr., Lucas Bersamin, Samuel Martires, Alexander Gesmundo, Noel Tijam, Francis Jardeleza decided to defy it. In their opinion, it appears that the Constitutional provision did not apply to them.
Even more bizarre, Philippine Speaker of the House Pantalion Alvarez actually congratulated the high court for its decision! Never mind that the court's decision took away from the speaker and his congress its having the sole authority to remove impeachable public officials.
So where does all this leave Pinoys? Deeper in the hole they were in before this misguided court decision. A constitutional crisis could erupt at any moment. Vice President Leni Robredo is understandably concerned. She could be next.
President Rodrigo Duterte has played coy throughout this debacle yet his DNA seems to be all over the place according to his critics. It was his solicitor general, Jose Calida who filed the quo warranto petition with the high court in the first place. The administration's top lawyer, sworn to uphold and protect the constitution, actually got the ball rolling!
German philosopher Friedrich Nietzsche once said that "whoever fights monsters should see to it that in the process he does not become a monster." Words the Philippine president would be wise to heed in his quest to rid the country of all its evils. Published 5/14/2018