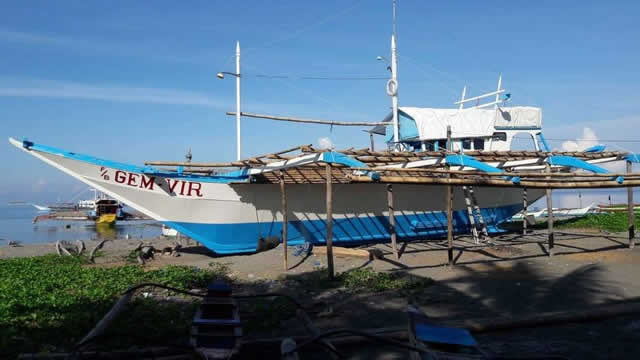 The F/B GIM-VER back in 2016. Photo: Fe dela Torre/Rappler
t looks like the Duerte administration has a lot of soul-searching to do. Ever since he became president, Rodrigo Duerte has cozied up to China, preferring a conciliatory approach rather than a confrontational approach, in the belief that China will be more accommodating that way.
So far, he has gotten but a handful of China-funded projects, while shoals and reefs in the West Philippine Sea (South China Sea) that legally belong to Filipinos remain in Chinese hands. This even though a United Nations tribunal in the Hague unanimously determined, just after Duterte became president, that China's sweeping South China Sea claims were invalid.
Adding salt to the wound, a Chinese vessel allegedly collided with a smaller Philippine fishing boat causing it to sink. The Chinese ship did not even bother to stop and rescue the Filipino crew. An article in The Philippine Daily Inquirer noted that "The incident happened on the evening of June 9, Sunday. The Filipino vessel F/B GIMVER 1 was anchored at the time when it was hit by the Chinese fishing vessel, Defense Secretary Delfin Lorenzana said in a statement."
The Philippine Secretary of Foreign Affairs Teodoro Locsin Jr. thankfully took swift action despite his being out of the country. Commenting on Twitter Locsin said "I fired off a diplomatic protest yesterday (Wednesday, June 12) [to] the Maritime Safety Committee of the IMO (International Maritime Organization)," the Manila Bulletin noted on Thursday. It must be noted that as of this writing, there is still no definitive proof that it was a Chinese vessel that collided with the GIM-VER 1.
Nevertheless, it is becoming abundantly clear to most Filipinos that allying with China, as Duterte has been pushing for since 2016, is an extremely risky proposition. Here's why. First, China, it must be emphasized, is a totalitarian, Communist country, while the Philippines is a democracy and has been fighting communists like the Hukbalahaps since in the 1950s. Second, China now occupies West Philippine Sea reefs and shoals well inside the Philippine's exclusive economic zone (EEZ) but it, in turn, forbids any foreign vessel from venturing close to its own EEZ. Third, the Chinese Communist Party's (CCP) lack of transparency and the overt aggressiveness of its military make China a difficult and dangerous country to ally with.
So before Duterte takes his "bromance" with Chinese President Xi Jin Ping to a higher level, he should also take his cue from the demonstrators in Hong Kong. Tens of thousands have been protesting the enactment of new extradition laws. The fact that Hong Kongers appear to be all riled up over a seemingly innocuous law speaks volumes about how they perceive China. Living under its shadow since 1997, they know first-hand how it operates. Duterte and his advisers need to understand that China's many aggressive acts towards Filipino fishermen in their own waters, as well as the current Hong Kong demonstrations, are stark warnings to all Filipinos that—China under the Communist Party is not a true ally. Published 6/14/2019