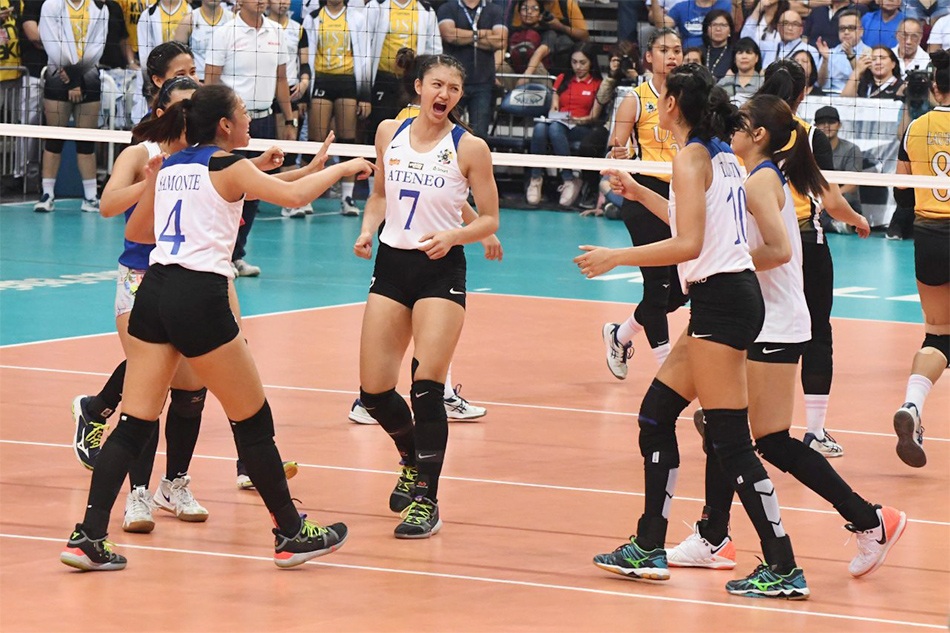 MANILA, Philippines — (UPDATED) Ateneo de Manila University refused to fade away just yet in the UAAP Season 81 women's volleyball tournament, as the Lady Eagles forced a do-or-die game for the championship against University of Santo Tomas (UST).
The Lady Eagles drew first blood, recovered from a sluggish second set, showed their poise in the third and then dominated the fourth for a 26-24, 14-25, 25-21, 25-15 triumph in Game 2 of the finals on Wednesday at the Mall of Asia Arena.
With the win, Ateneo snapped UST's 7-match winning streak, and knotted their best-of-3 championship series at one game apiece.
Game 3 is on Saturday, still at the MOA Arena.
"I just wanted to gather them and remind them of how hard we've worked for today," said Ateneo captain Bea de Leon, who cut an emotional figure after their loss in the first game. "We're prepared, we're ready. All our sacrifices have prepared us for this day."
Maddie Madayag had a team-high 17 points for Ateneo, including 4 of their 8 kill blocks. De Leon added 13 points, while Kat Tolentino scored 10. But it was libero Dani Ravena who earned Player of the Game honors, after contributing 22 digs and 12 excellent receptions in the win.
UST entered the match brimming with confidence from their straight sets win over the Lady Eagles in Set 1, and with plenty of emotion after watching Sisi Rondina receive her MVP award ahead of the game.
A nip-and-tuck opener saw UST reach set point, 24-23, off a big bit by Caitlyn Viray. But the Lady Eagles' seniors stepped up: De Leon registered a massive block of Laure before Tolentino pounced on an over-received ball to put the Lady Eagles ahead, 25-24. A mishit by Laure gifted the final point for Ateneo; it was UST's 13th unforced errors of the set.
UST cleaned up their act in the second frame, and they raced off to a quick 8-2 lead that Ateneo never quite recovered from. The Lady Eagles were able to trim the lead to two points, 9-11, off UST's own errors, but committed miscues of their own that pushed the Tigresses' lead to 16-9. It was all UST after the second technical timeout, as Rondina anchored a 7-0 blitz to end the frame.
Unfortunately for UST, disaster struck right at the start of the third set. Eya Laure, who was named Rookie of the Year just ahead of the match, suffered an ankle injury while going for a block of Tolentino in the first rally of Set 3. She had to be taken to the dugout, and missed a bulk of the frame.
Eya Laure out of the playing court after hurting her left ankle. Father Eddie Laure carried her to the dugout. #UAAP81VolleyballFinals pic.twitter.com/oGcFtIs7cL

— Danine Cruz (@the9cruz) Mayo 15, 2019
Remarkably, UST stayed toe-to-toe with the Lady Eagles, and even took an 18-17 lead. They were down by just two points, 21-19, thanks to a Rondina hit when Laure returned to a massive ovation from the UST gallery.
But the Lady Eagles took four of the last six points of Set 3: Laure's first hit in her return hit the net, and a kill by Ponggay Gaston, followed by a Deanna Wong ace, made it 24-20. Wong sent her next serve short to keep UST alive, but de Leon came through with a massive kill in the next rally to put her team on the brink of victory.
Now with momentum on their side, the Lady Eagles opened up an 8-4 advantage in the fourth frame. Madayag asserted herself at the net, coming through with her usual running attacks and quick hits, while also soundly rejecting a hit by Ysa Jimenez. Ateneo led, 21-9, off a Tolentino kill, before cruising to victory.
"Of course, lalaban talaga kami," said Madayag afterward. "We're not gonna go down without a fight."
Rondina finished with 22 points, but was far less effective this time around as she converted just 18 of 61 hits. Laure finished with 10 points, while Jimenez scored 9, including 5 of UST's 10 aces.
After being overwhelmed offensively in Game 1, the Lady Eagles piled up the points this time around. They had a 41-37 edge in kills, and an 8-6 edge in blocks. They also had an 11-10 advantage in aces, while scoring 30 points off UST's errors. The Lady Eagles did give away 32 points off their own miscues.
UST had drawn first blood with a swift 25-17, 25-16, 25-20 triumph in Game 1 last Saturday, but Ateneo rebounded to force a do-or-die match.
This is Ateneo's first triumph in the UAAP finals since Alyssa Valdez scored 34 points in Game 2 of the Season 78 championship series, giving the Lady Eagles a five-set win over La Salle.
For more sports coverage, visit the ABS-CBN Sports website.