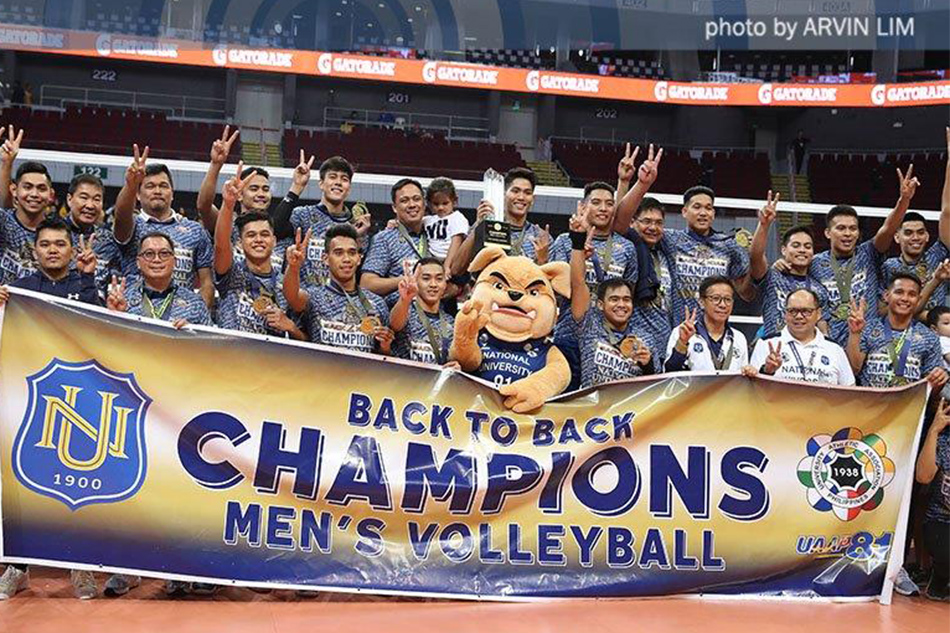 MANILA, Philippines — (UPDATE) National University (NU) remains the standard-bearer in UAAP men's volleyball after sweeping Far Eastern University (FEU) in the Season 81 finals.
Behind a spectacular performance from Bryan Bagunas, the Bulldogs downed the FEU Tamaraws, 24-26, 25-23, 25-23, 25-19, in Game 2 of the best-of-3 finals on Wednesday at the Mall of Asia Arena.
Bagunas, named the league MVP earlier in the day, scored four of NU's final five points of the game — including the match-winner — as the Bulldogs recorded their second straight men's volleyball title. It is also their fourth championship in five years.
Much like in Game 1, the Bulldogs needed to come from behind after dropping the opening set. Yet much like Game 1, their experience and poise shone through in the tight second and third frames, before dominating the fourth frame to claim the victory in two hours.
Bagunas uncorked a whopping 35 points, making 33 of his 49 spike attempts, to lead the Bulldogs to their 16th straight win of the season. He earned Finals MVP honors for the second straight season.
BRYAN BAGUNAS FOR THE WIN 🏆 #UAAPVolleyballFinals pic.twitter.com/o3we7fCCTs

— ABS-CBN Sports (@abscbnsports) Mayo 15, 2019
NU lost just one game in the UAAP — their first game of the tournament against the FEU Tamaraws.
"Masaya ako sa pagiging champion namin," said NU coach Dante Alinsunurin. "Ang performance namin, umangant ng umangat pagdating ng finals."
No other NU player reached double-digits, with Kim Malabunga scoring 9 markers and James Natividad adding 8 points. Newly crowned Rookie of the Year Nico Almendras had 7 points.
Back-to-back rejections on Almendras allowed FEU to get a foot ahead with a close win in the opening frame, 26-24. They stayed in control, 16-13, in Set 2, before Bagunas began to wax hot after the second technical timeout.
The high-flying wing spiker unloaded a massive spike from the back row to knot the count at 18, then scored twice in a 4-0 blast that put NU ahead, 22-19. The Tamaraws made one last push, tying the set once more thanks to a quick hit by JP Bugaoan, a power tip by Owen Suarez, and a rare attack error by Bagunas.
But Almendras fired a crosscourt hit, and Bagunas overpowered a triple block to put the Bulldogs at set point, 24-22. Almendras's service error kept FEU alive, but the Tams shot themselves in the foot when Richard Solis was called for a violation that gifted the final point to the Bulldogs.
NU pulled through in another tight third set. The Bulldogs were up, 21-20, when disaster struck for FEU as their setter, Suarez, suffered an apparent injury after trying to block Bagunas. The Bulldogs refused to be distracted: in the replay of the point, Bagunas unloaded another off-the-block hit, before Paolo Ancheta scored a clutch ace for a 23-20 count.
NU reached set point off a massive down-the-line attack by Bagunas, but FEU managed to save two set points off a Bugaoan runner and a Bagunas error. Off a timeout, however, the Bulldogs perfectly executed a quick hit for Malabunga, giving NU a 2-1 lead in the match.
FEU, now playing with Cian Silang as their setter, appeared ready to force a fifth set after coming to within one point, 19-20. The Bulldogs helped them with their errors, as Francis Saura and Almendras committed 3 straight errors.
Bagunas, however, refused to be denied. Off a timeout, he crushed the FEU blockers for another hit, before Saura made up for his earlier miscue with a massive block. Bagunas then scored the last three points for the Bulldogs — blocking RJ Paler, then drilling two straight hits to clinch the title.
"Yung pag-exit naming mga seniors, history," said Bagunas. "Tatlong taon na ang mga seniors namin, nag-exit sila na hindi sila nag-champion. Inisip na lang namin na hindi namin ipaparamdam sa sarili namin 'yung ganoong exit."
Solis scored 18 points in his final game for FEU, while Jude Garcia, Bugaon, Paler, and Peter Quiel each scored 11 points.
The statistics showed how close the match was: NU had a slim 55-53 lead in attacks, a 12-10 lead in blocks, and a 7-4 lead in aces. FEU had one more error, 25-24.
The result was a repeat of the Season 75 finals, when NU defeated FEU in three matches to win their first title.
For more sports coverage, visit the ABS-CBN Sports website.