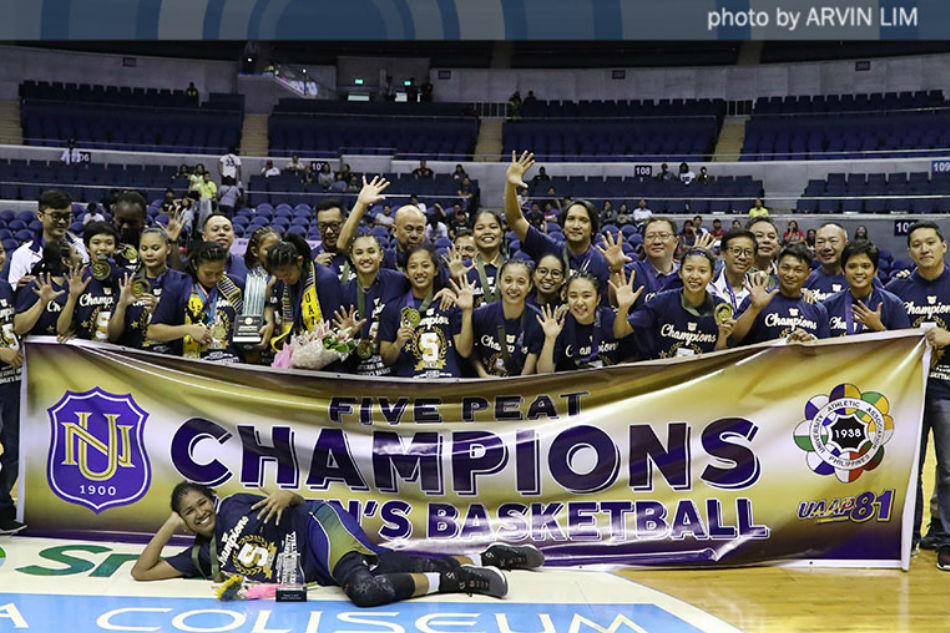 MANILA, Philippines—(UPDATED) National University held on for a 67-61 triumph over Far Eastern University on Wednesday to wrap up another dominant campaign in UAAP women's basketball.
It was NU's 80th consecutive win, giving the Lady Bulldogs a sweep of the Season 81 tournament as well as their fifth straight women's title.
The Lady Bulldogs already own the longest winning streak in the UAAP, and have matched the achievement of the Ateneo Blue Eagles who also won five straight titles from Seasons 71 to 75.
Rhena Itesi had 17 points and 10 rebounds, while Jack Animam imposed her will with 15 points, 21 rebounds, and 4 blocks for the Lady Bulldogs.
"Sobrang happy lang talaga," said NU coach Pat Aquino. "Ang goal namin is not the streak. Ang goal namin is to get the fifth championship. Bonus na siguro ang 80 wins and 16-0."
Animam added: "Sobrang sarap. I'm on cloud nine."
After settling for a slim 18-16 lead in the first quarter, NU pulled away in the second as the Lady Bulldogs outscored the Lady Tamaraws 23-9 for a 41-25 lead at the halftime break.
But FEU, making its first finals appearance since Season 77, refused to fold easily. A floater by Valerie Mamaril made it an 8-point game 54-46 with still 9:52 to go in the contest.
The Lady Bulldogs simply had an answer for every FEU bucket, however. Jeanne Camelo scored off an Animam dime to respond to Mamaril, touching off an 8-2 run that put NU back on top, 62-47.
Three-pointers by Elaisa Adriano and Blanche Bahuyan gave FEU some hope, as the Lady Tamaraws trimmed the deficit to nine points with 2:37 left 62-53.
But Animam scored off a putback, then assisted on a transition basket by Kaye Pingol to restore NU's double-digit lead, 67-53, with just 1:40 to play.
A three-pointer by Adriano and a lay-up by Clare Castro was FEU's last chance at a comeback, but the Lady Tamaraws simply ran out of time as NU added another title to its dynasty.
Animam earned finals MVP honors after averaging 17.0 points, 16.5 rebounds, 3.5 assists, 3.0 steals, and 3.0 blocks in the two-game title series.
Fatima Quiapo led FEU with 15 points, but Castro was limited to just six points though she did have 13 rebounds and four blocks.
While NU secured a fifth straight 16-0 season, it finals run was not as dominant as previous years. The Lady Bulldogs won both games by an average margin of nine points, the lowest in their five-year run.
"I credit FEU and their coaching staff, their players," said Aquino. "They brought out the best in us. They really prepared well, and hindi naman sila pupunta sa championship if they don't deserve it."
"I have to get ready for them next year," he added. "They're gonna be an intact team, so we have to prepare harder."
Aquino is losing two players in Ria Nabalan and Jhianne Layug, who both went 80-0 in their collegiate careers.
The Scores:
NU 67 — Itesi 17, Animam 15, Nabalan 11, Pingol 8, Camelo 8, Del Carmen 7, Canuto 1, Fabruada 0, Layug 0, Cacho 0, Goto 0.
FEU 61 — Quiapo 15, Adriano 9, Mamaril 8, Bahuyan 7, Castro 6, Taguiam 6, Antiola 6, Bastatas 2, Payadon 2, Vidal 0.
Quarters: 18-16, 41-25, 54-44, 67-61.
For more sports coverage, visit the ABS-CBN Sports website.