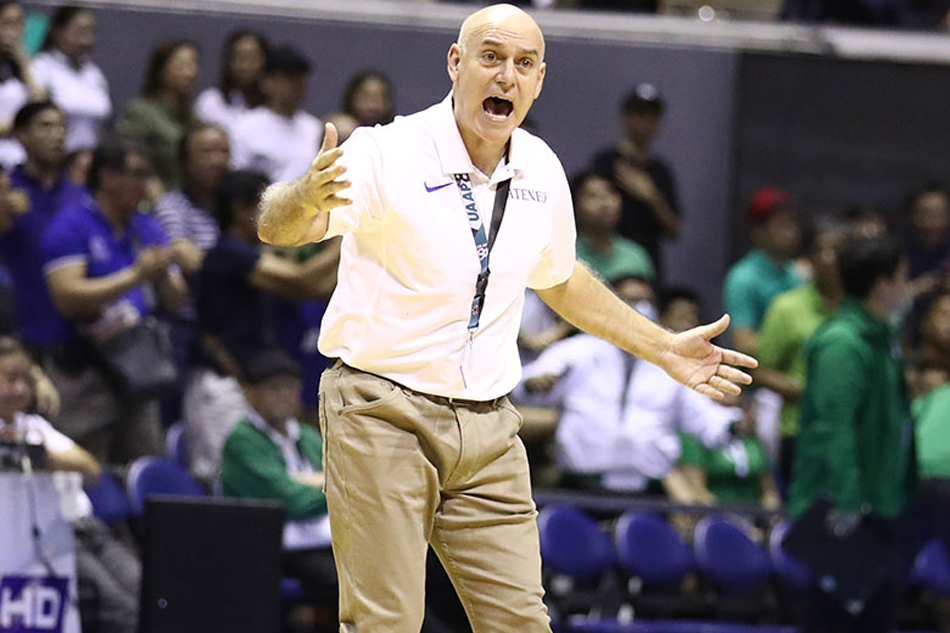 MANILA, Philippines – Ateneo de Manila University head coach Tab Baldwin shrugged off the Blue Eagles' failure to complete a sweep of the UAAP Season 80 elimination round, pointing out that their toughest tasks are still ahead of them.
Facing off against archrival De La Salle University in their final game of the elimination round, Ateneo squandered a 12-point lead in the fourth quarter, and were outplayed by the Green Archers in the final two minutes and 24 seconds of the game.
La Salle ended the game on a 10-0 run to take a 79-76 victory, giving Ateneo its first loss of Season 80. Thus, instead of advancing straight to the Finals, the Blue Eagles settled for a 13-1 record and the No. 1 seed, and the Final Four will play out in its traditional format.
"It's everything that we expected," Baldwin said of the contest. "It's a tough game. I think we didn't react well when they changed defenses in the fourth quarter."
Foul trouble – particularly to their big men – hampered Ateneo in the crunch time, and Baldwin was left to lament the "soft calls" that sent players like Chibueze Ikeh and Vince Tolentino to the bench during crucial moments.
"The line-ups that we had to put out there were different line-ups that we played through most of the season, and they weren't as effective and as efficient, and they're never going to be," said Baldwin.
"So you know, if we get into a situation, in a huge environment like that, and referees choose to put quality players on the bench with very, very soft calls, that's what they get," he added. "They get a game of lesser quality than what the fans should get, or what the TV audience should get."
"Fans in the audience should've seen Ikeh and George out on the floor more than they did today, and I think that's a shame that they weren't."
Still, Baldwin was quick to give La Salle credit. "The fourth quarter, they owned it," he said of the Green Archers. "That's a big disappointment for us. That's been a quarter we've done well in this year."
"In the fourth quarter, you got to give credit to La Salle's energy, effort, defensive changes, and our foul trouble. We just could not overcome that," Baldwin also said.
"So you know, congratulations to them, and now, it's on to the semis," he said.
Indeed, Baldwin said the Blue Eagles are not feeling too down on themselves despite their failure to sweep – a feat that would have been historic for the program. "They're fine," the coach said of his players.
"We need to put that in perspective," Baldwin further explained. "It would have been nice to have, but that's it. It would have been nice."
"Things like sweeps and undefeated seasons are things you dream about, but you got to leave them behind pretty quick," he added.
Instead, Ateneo is pouring its energies on preparing for the Final Four. They get a break on Monday, but come Tuesday, it's back to work for the Blue Eagles as they gear up for a dangerous Far Eastern University team in the semis.
"Even if we won today, we got to leave it behind, because the golden apple that we're after is still in front of us," said Baldwin. "So you know, what really matters is the next game, right?"
"We still have to win the title," he also said. "Now, we just have a different route to try and do what we really want to do."
For more sports coverage, visit the ABS-CBN Sports website.