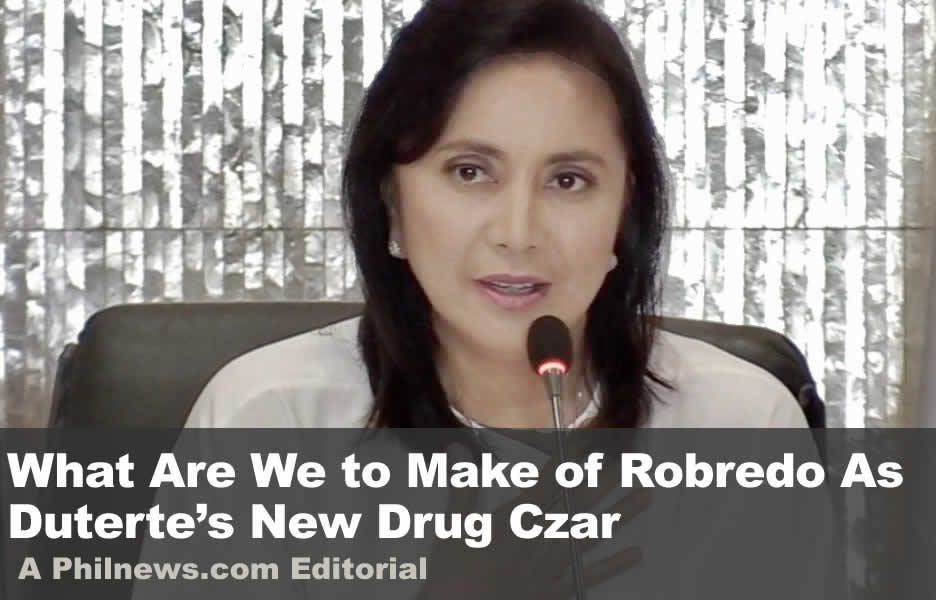 Vice President Leni Robredo. Photo: Inquirer.net

o, Vice President Leni Robredo accepts President Rodrigo Duterte's offer to take charge of his failing drug war. We at PNL have reservations as to why the president made the offer in the first place.
For starters, it appears that Duterte's "war on drugs" was not well thought out. The country went from President Noynoy Aquino, who seemed too timid and indecisive, to Duterte, who appears to be a seat-of-the-pants, shoot-from-the-hip, kind of leader. His six-month deadline to eradicate drugs now looks laughable. It seems he had no idea what he was up against. It is doubtful that he or his advisers ever did a careful analysis of the problem.
There were those who tried to warn the new president, but he paid no heed to their warnings. In a New York Times op-ed, in 2017 titled: President Duterte Is Repeating My Mistakes, the former president of Colombia, Csar Gaviria, warned Duterte that the tactics and methods he was using did not work in Colombia and would likely fail in the Philippines as well.
Now, three years into his term in office, drug use persists unabated. So Duterte appears to have calculated that handing over the reins of his failed program to a ranking member of the opposition might be a shrewd move. If Robredo eventually fails, he can point to her as a failure as well. And if somehow she succeeds, he will undoubtedly take credit for having chosen her for the job.
But Robredo is no fool. She accepted Duterte's offer because she most likely knows she can do a better job. She can start by seeking advice from experienced individuals like former President Gaviria. Robredo has to quickly put together a top-notch team who will give her sound advice. The right team is essential, given what she is up against.
Drugs are a multi-faceted problem. It will have to be attacked from different angles and in different ways. Many who tried Duterte's ham-fisted approach ended in failure. But a group of talented professionals who can think outside the box and approach the problem in a deliberate and systematic way might arrive at the right solution.
We wish you good luck Madam Vice President. Not just the Philippines, but the entire world can benefit from even a small reduction in the drug scourge that plagues most countries. Published 11/11/2019