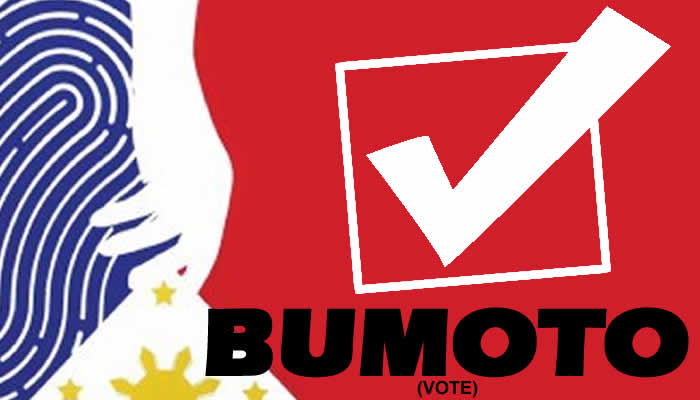 Bumoto (vote). Graphic: COMELEC/PNL

idterm elections in the Philippines, like those in the United States, are seen as a referendum on the administration in power. For this year's midterm elections in the Philippines, it is a referendum on the Rodrigo Duterte Administration. A victory for candidates endorsed by Duterte means most Filipinos agree with how the president is running the country.
The president retains high poll numbers according to ABS-CBN News; "the President's trust rating in the last month of 2018 was at 76 percent, 4 percentage points higher than his score in the third quarter." Such were the results of a Pulse Asia survey conducted between December 14 and 21, 2018.
By contrast "House Speaker Gloria Macapagal Arroyo received a low performance approval score of 27 percent, while trust in the former president-turned-lawmaker climbed 2 percentage points to 21 percent. 'The only majority figure obtained by the House Speaker is her 52% distrust rating in Metro Manila,' the [Pulse Asia] survey read."
Arroyo's low survey ratings likely stem from numerous corruption controversies during her nine-year stint as president. Although most involved local individuals, Arroyo had two major corruption scandals that involved China: the Joint Marine Seismic Undertaking (JMSU), and the National Broadband Network deal with ZTE (NBN-ZTE). Both deals were thankfully scuttled after they were exposed in the media. Their cancellation prevented China from acquiring information about mineral and other undersea resources in our continental shelf, and ZTE was stopped from building what would have likely been a severely compromised nationwide broadband network."
Unlike Arroyo, Duterte's trust rating remains high because many Filipinos believe he is honest. They believe he is genuinely concerned about their welfare and wants to make their lives better. If this sentiment carries all the way through to election day, Duterte's handpicked candidates will easily win the midterms and provide him a solid mandate for his final three years.
However, there appears to be growing disenchantment among some Filipinos regarding Duterte's close ties with China and his reluctance to confront the Chinese over their abusive treatment of Filipino fishermen. Others are worried about what they see as Duterte's increasing authoritarian pronouncements. They fear he might eventually take away the rights and freedoms Filipinos enjoy today. Still others are bothered by rumors that members of the president's inner circle might actually be involved in drug trafficking and other illicit activities.
Duterte vehemently denies all those allegations and blames his detractors for spreading fake news. Assuming that the vote will not be rigged, the May 13 midterm election could be an unequivocal statement of who the country believes. Will it be a vote of confidence for the current occupant of Malacaang? Or will it be a vote of no confidence and a demand that the president do more for his countrymen? Let us hope that all Filipinos who can, exercise their right to vote … and vote wisely. The country's future hangs in the balance. Published 4/12/2019