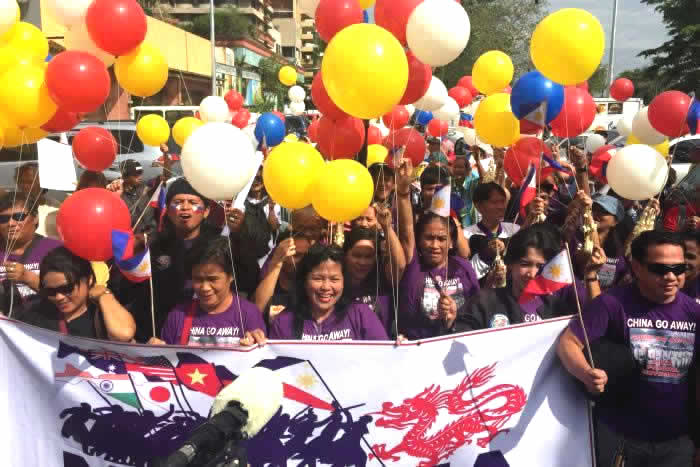 Jubilant Filipinos march along Roxas Boulevard in Manila after the UN tribunal's verdict was announced on July 12, 2016. (author-supplied photo)

resident Rodrigo Duterte won the most votes among US overseas Filipino voters in the May 2016 elections partly due to his strong showing in The Filipino Channel (TFC) special town hall forum on the Philippine elections held on May 1, 2016 and presented to a TV audience of 250,000 cable subscribers.
At this town hall forum, representatives from all the presidential candidates passionately presented their candidates' views on a variety of topics and were cheered on by their supporters dressed festively in the political colors of their candidates.
On the subject of the West Philippine Sea, TFC host Gel Santos Relos provided a brief historical background to the suit filed by the Philippines in the United Nations (UN) Permanent Court of Arbitration at The Hague in January of 2013 challenging China's sweeping territorial claims in the South China Sea. In various polls taken after the UN suit was filed, more than 90% of the Filipino people indicated their support for the government's legal action.
It was not surprising then that all the presidential candidates voiced their support as well, among them Davao City Mayor Duterte who said in a video taken just the night before and shown to the TV audience: "I will ask the Navy to bring me to the nearest boundary in the Spratly – Scarborough. I will go down and ride a jet ski carrying the Philippine flag which I would plant there in their airport, then I would say, "This is ours and do what you want with me." Bahala na kayo," he said.
This defiant promise to stand up to China drew the loudest, most enthusiastic cheers from the supporters of all the candidates.
IT WAS ALL JUST "HYPERBOLE"
Two months after that TFC forum, and less than two weeks after Duterte was sworn in as president, on July 12, 2016, the 5 judges of the  International Tribunal on the Law of the Sea (ITLOS) voted unanimously in favor of the Philippines finding that China had violated the Philippines' sovereign rights in its Exclusive Economic Zone (EEZ) by interfering with Philippine fishing and petroleum exploration, constructing artificial islands in it and failing to prevent Chinese fishermen from dominating the fishing in the Philippine zone.
Philippine Supreme Court Senior Associate Justice Antonio Carpio described the ITLOS ruling as one that "re-affirms mankind's faith in the rule of law in peacefully resolving disputes between States and in rejecting the use or threat of force in resolving such disputes. This rule of law is enshrined in the United Nations Charter."
In its 497-page ruling, the ITLOS judges determined that "there was no legal basis for China to claim historic rights to resources within the sea areas falling within the 'nine-dash line'," referring to an arbitrary demarcation line on a 1947 map of the sea drawn by a Chinese Kuomintang official, which has been the official basis of China's claim to ownership of 3 million square miles of the South China Sea. If successful, China's annexation of the entire South China Sea would constitute the largest maritime heist in world history.
The tribunal judges also condemned China's land reclamation projects and its construction of artificial islands at seven features in the Spratly Islands, concluding that it had caused "severe harm to the coral reef environment and violated its obligation to preserve and protect fragile ecosystems and the habitat of depleted, threatened, or endangered species".
For a people that had been colonially subjugated by a succession of colonial and neo-colonial powers for almost four centuries, this was the most significant political victory in its history. Not since 1521 when Mactan Chief Lapulapu defeated Ferdinand Magellan and his armored Spanish soldiers have Filipinos defeated a foreign power.
It was a humiliating defeat for China which is the pre-eminent economic and military power in Asia. It should be a source of pride for a people with a long history of being bullied by foreign powers. Never again will a foreign power impose its will on the Filipino people. Sa manlulupig, di ka pasisiil ("Never shall invaders trample thy sacred shores.")
But surprisingly, the first anniversary of this historic decision came on July 12, 2017 without any fanfare or celebration in the Philippines. No commemorative event anywhere.  What happened?
Soon after his election, Duterte said that his promise to plant a Philippine flag in the Scarborough by a riding jet ski there was just "hyperbole" as he doesn't even swim. He said he is willing to "shut up" about the West Philippine Sea dispute as long as China will offer to build vital transportation facilities and other infrastructure in the Philippines.
WILLING TO SET ASIDE HAGUE RULING
On December 16, 2016, Duterte said that he was willing to set aside The Hague ruling because, he said, he doesn't want to "impose on China". He gave this explanation when he was asked in a news conference if a US think tank report that China had installed anti-aircraft and anti-missile weapons on its new artificial islands in the West Philippine Sea would affect his perception of Beijing.
Justice Carpio said that he was "aghast" at the President's announcement. "In law, to set aside ruling means to nullify, void, or abandon the ruling. I had to sound the alarm for the Department of Foreign Affairs (DFA) to immediately clarify the President's statement," Carpio said.
Fortunately for the Philippines, Carpio said, the DFA issued a clarification which prevented the Philippines from being legally bound by Duterte's unilateral "setting aside" pronouncement. "We escaped a self-inflicted colossal disaster by the skin of our teeth," Carpio said.
Duterte had insisted that his policy of appeasing China will be more effective for the Philippines. "I think to the extent that the government has adapted a more friendly, more conciliatory push to China, I think the atmosphere has become better for a resumption of a discussion with China in general. And we'd like to move in that direction," he said.
However, when Duterte met with China's Pres. Xi Jinping in Beijing on May 15, 2017, and informed the Chinese ruler of Philippine plans to drill for oil in its territorial waters, Xi told him in no uncertain terms that there would be war if the Philippines tried to enforce the United Nations arbitration ruling.
"We're friends, we don't want to quarrel with you, we want to maintain the presence of warm relationship, but if you force the issue, we'll go to war," Xi said.
WHY CHINA THREATENED WAR
Xi knew on May 15 what the Xinhua Chinese News Agency would officially announce to the world three days later on May 18 that China had successfully mined methane hydrate ("flammable ice") from the South China Sea, which deposits are estimated to exceed the combined energy content of all other fossil fuels, as high as 150 billion cubic meters of natural gas equivalent, sufficient to satisfy China's entire oil consumption for the next century.
If the Philippines succeeds in harnessing the methane hydrate resources in its territorial waters, an ownership affirmed by the ITLOS ruling, then the Philippines can realize a future of economic prosperity where the country will no longer need to export millions of its overseas Filipino workers (OFWs) to work as virtual slaves in the Middle East. 
When that future of economic prosperity arrives, Filipinos will rightly point to the July 12, 2016 ITLOS ruling as the pivotal decision that paved the way for the Philippines to escape a future of poverty. Parks, schools and streets will be named after the ITLOS victory heroes like DFA Secretary Albert Del Rosario, Associate Justice Antonio Carpio, Pres. Benigno S. Aquino III, Consul-General Henry Bensurto, Jr. and philanthropist Loida Nicolas-Lewis, among many others, for the vital roles they played in securing the Philippine victory at the UN.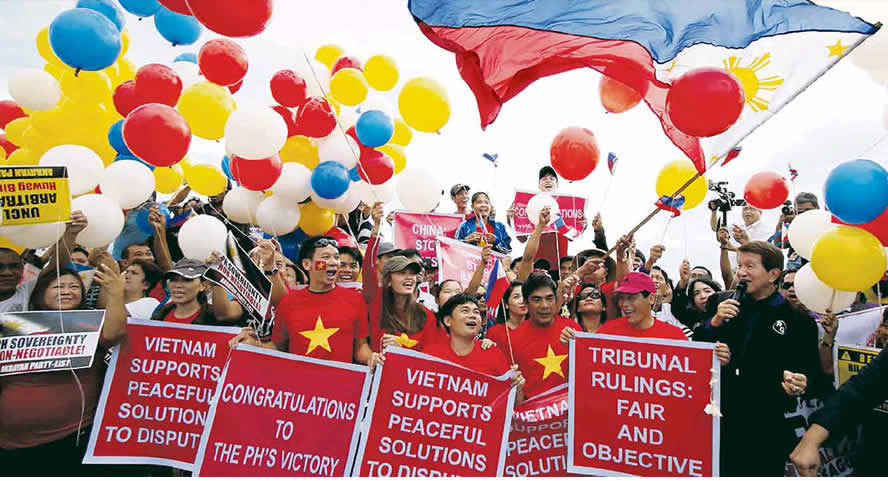 Even Vietnamese in Manila joined Filipinos in celebration on July 12, 2016. The tribunal's ruling was seen as a victory for Vietnam as well. (INQ-photo)
Perhaps before that day comes, a member of the Philippine Congress can sponsor a resolution calling for July 12 to be celebrated annually as Philippine National Sovereignty Day to honor the victory of the Philippines at The Hague.
It took more than 66 years for the Philippines to officially celebrate June 12 as Philippine Independence Day when Filipinos in countries all over the world and in cities and towns all over the Philippines can proudly honor the historic day the Filipino people proclaimed their independence from three centuries of Spanish rule.
The Filipinos who raised the Philippine flag and sang the Philippine National Anthem for the first time on June 12, 1898 could not celebrate the first anniversary of that glorious event because by then the United States had already invaded the Philippines and was on its way to colonially subjugating the entire country which it claims it bought from Spain for $ 20 million on December 10, 1898 in the Treaty of Paris.
On August 4, 1964, President Diosdado Macapagal signed Republic Act 4166 "changing the date of Philippine Independence Day from July 4 to June 12" finally correcting a historical injustice.
Let's not wait 66 years. Please call on Congress to Celebrate Philippine National Sovereignty Day on July 12 now. Published 7/21/2017
(Send comments to Rodel50@gmail.com or mail them to the Law Offices of Rodel Rodis at 2429 Ocean Avenue, San Francisco, CA 94127 or call 415.334.7800).