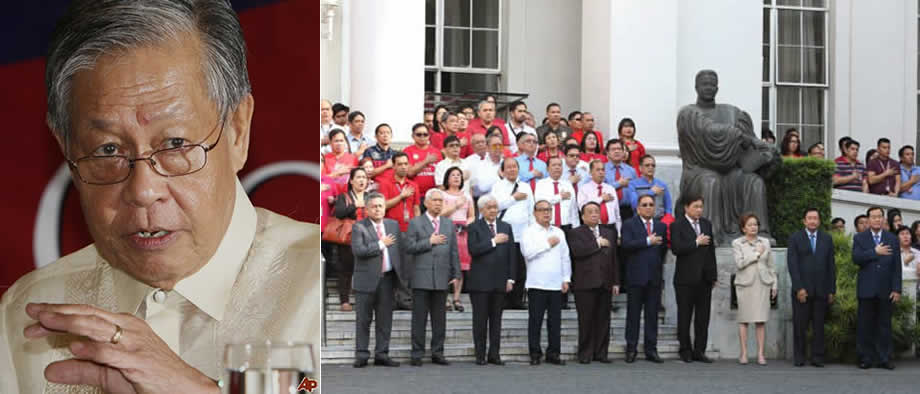 Former Chief Justice Hilario Davide, AP photo (left photo). Nine Supreme Court justices, five of them wearing red neckties, join employees during Monday's flag-raising ceremony, an event called "Red Monday" to show their disapproval of Chief Justice Maria Lourdes Sereno, INQ photo—MARIANNE BERMUDEZ (right photo).

e Pinoys use the phrase "only in the Philippines" to highlight many of the peculiar things we Filipinos do. While this website mostly refrains from using that phrase, we believe it is apt this time around.
The seemingly orchestrated initiatives by groups demanding the resignation of Philippine Chief Justice Maria Lourdes Sereno have gone from tolerable, to ridiculous, to "only in the Philippines" can something like this happen. Malaca�ang has gone out of its way to distance itself from impeachment efforts against the chief justice, but it is worth noting that it was no less than President Rodrigo Duterte's Solicitor General, Jose Calida, who filed a case questioning her appointment as Chief Justice.
In an article on March 13, 2018, the Philippine Daily Inquirer noted that among the groups calling for Sereno to step down are: the Philippine Judges Association (PJA), Supreme Court Employees Association (SCEA), Supreme Court Assembly of Lawyer Employees, Philippine Association of Court Employees, and Sandiganbayan Employees Association.
"It is time to let go. Please let the judiciary move on," read a statement by the Philippine Judges Association. Also, during the flag-raising ceremony inside the High Court's compound on Monday, March 12, court employees, including some justices wore red to show they disapproved of Sereno.
The Inquirer article also quotes presidential spokesperson Harry Roque who said in a press briefing "We've left the decision to her. No one can force her to resign if she doesn't want to. However, I think the sentiments even of the lower court judges have been made known. We can only hope the Chief Justice will take these sentiments into consideration."
It took a well-respected former Chief Justice, Hilario Davide, to point out that what these groups are demanding is wrong. Davide statement read: "I wish to express my deep and profound concern over the apparent politization of the Judiciary. I refer particularly to recent calls from certain judges and court employees for the Chief Justice to resign immediately. The call is far worse than the impeachment and the quo warranto." Davide pointed out that the constitutional process of impeachment should be allowed to run its course. Groups—especially those made up of lawyers and judges should not call for the circumvention of the impeachment process by demanding that Sereno step down. Let the constitutional process proceed as required by law.
Only in the Philippines will you have judges and lawyers—legal minds who should know better—making such a demand versus due process.
So let us all take a step back and let the legal process run its course. It will take longer, but if the Senate, convened as an impeachment court, does its job well, then the verdict will be fair. Then and only then, can the judiciary, and the rest of the country, move on. Published 3/14/2018