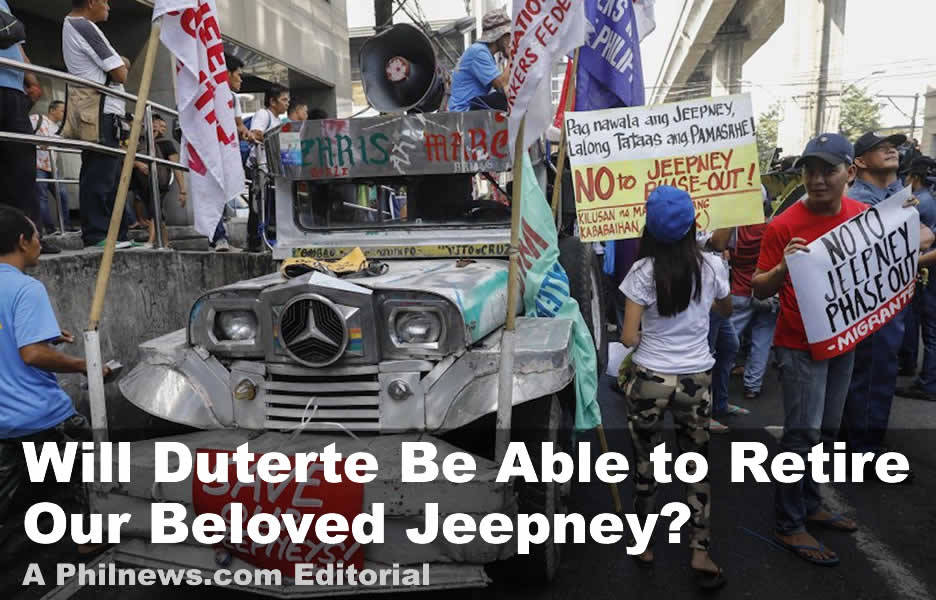 Striking to keep the Jeepney. Photo: Twitter/Asia Times

ccording to Mody Floranda, president of Pinagkaisang Samahan ng mga Tsuper at Operators Nationwide (Piston), a national union of jeepney drivers, banning 15-year-old jeepneys is not the right approach. Instead, his group wants old units simply refurbished to meet the standards set by "the decades-old Public Utility Vehicle (PUV) Modernization Program," writes Lorenz S. Marasigan of the BusinessMirror. Floranda continues, "it is very clear that we are not against modernization. But what we need is rehabilitation."
Unfortunately, for many Filipinos, they have just about had it with jeepneys and other outdated modes of public transportation in the Philippines. Yes, jeepneys carry millions of commuters daily. Yes, jeepneys provide its drivers with a decent livelihood. But they are also extremely inefficient, and their diesel engines contribute significantly to air pollution.
Also, from the riding public's perspective, Jeepneys are mostly unregulated, uncomfortable, overcrowded, poorly maintained, and pose a danger to both its passengers and other vehicles on the road.
Therefore, the Duterte administration's efforts to finally enforce the government's PUV modernization program and rid the streets of this rolling menace appears well received in numerous quarters. For decades, previous administrations have tried and failed to get rid of them.
As expected, the powerful drivers' unions and those who make a living from jeepney operations do not want to see them disappear. They successfully stopped changes in the past and are confident they can do it again. Commenting on the recent strikes Piston's Floranda told the BusinessMirror that their recent actions "paralyzed 95 percent of Metro Manila, and 100 percent in other regions."
Michael Beltran of Asia Times adds that "the program, one of President Rodrigo Duterte's signature modernization drives, mandates that iconic jeepneys and other public utility vehicles (PUVs) that serve daily millions of Filipino commuters with cheap rides must be off the roads by July 2020." This showdown will be a test for the Duterte administration, whose critics contend, confronts poor drug addicts and women like Senator Leila De Lima, Vice President Leni Robredo, and former Justice Ma. Lourdes Serreno, but seems unable to stand up to men like former Senator Antonio Trillanes, or Chinese President Xi Jin Ping.
Piston, and other transport-related unions like Stop and Go, STOP, and ACTO, memberships run into the millions nationwide, and they will not readily acquiesce to Malacaang's demands. So this will be a significant test for Duterte. Will he be able to stand up to these unions, or will he fold and kick this can down the road just like previous administrations have done?
Getting jeepneys off the streets and (a few of them into Philippine museums) is now long overdue. Let's see if Duterte can pull this off for the sake of Filipino commuters. Published 10/3/2019